Bank Capital Flight a Risk as Sweden Pushes Tax, Nordea Says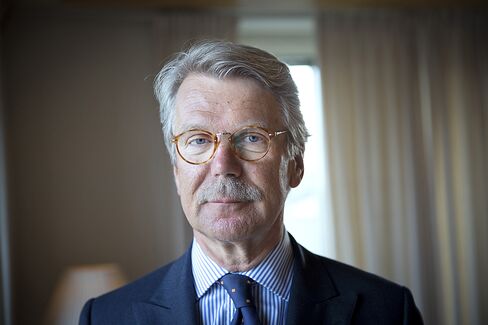 Bjoern Wahlroos, the chairman of Nordea Bank AB, is urging Sweden to reconsider a planned "financial activity" tax or risk ultimately losing a source of revenue.
The government's proposal, unveiled on May 1, may backfire because "in the longer run it can probably produce shifts in how banks do business," Wahlroos said in a May 7 interview in Stockholm. Banks have considerable freedom to decide whether parts of their business "can be located here, or they can be located in Copenhagen, or in London, or wherever," he said.
The Social Democrat-led government of Prime Minister Stefan Loefven has singled out banks as a source for generating more funds to pay for welfare pledges. Finance Minister Magdalena Andersson says Sweden's banks are currently "under-taxed" at a time when Nordea and its three biggest competitors are "making big money."
The planned levy, which replaces a proposal made last year that risked breaching European Union competition rules, will now be subjected to a review that the government says will run until November 2016.
"We pay corporate income tax just like anyone else so I cannot really understand the logic," Wahlroos said.
But the Finance Ministry says Swedish banks currently enjoy an advantage over other industries because they are free of value-added tax requirements. The planned bank levy would be imposed either on revenue or payrolls, according to the government. It says the new tax should bring in about 4 billion kronor ($485 million) a year.
Big Profits
"I see that there is room to increase the taxation of the banking sector," Andersson said in an interview after answering questions in parliament on May 8. "The bank sector earlier got a tax reduction of 4 billion kronor as an effect of the earlier reduction of company taxes, at the same time as they make very big profits and don't pay VAT," she said.
Keefe Bruyette & Woods Ltd., a London-based investment bank, says taxing banks' Swedish revenue is the most likely path for the government to take because doing so won't collide with its goal of bringing down unemployment.
"If you start taxing payroll, then of course the effect is that you create a disincentive to hire people and an incentive to invest even more in automation or e-banking," Wahlroos said.
Increasing Costs?
The Swedish Bankers' Association said a tax on payroll would give banks an incentive to cut staff while a tax based on the size of the lender would indirectly constitute a levy on credit, as it would increase if the bank's lending rises, according to a statement on its website. A tax would raise banks' costs and could lead to an increase in credit from unregulated businesses in the shadow banking system, it said.
"Apart from distorting competition, such a development could counteract financial stability," the association said.
KBW says a tax on banks' Swedish revenues would hit Swedbank AB hardest, eating away 3.2 percent of its earnings in
2017. Nordea would lose 1.3 percent of profit, suffering the smallest dent of Sweden's biggest banks. But those costs will be passed on to customers, KBW says.
Sweden already tried imposing a bank tax in the 1980s, targeting the sale of some financial products. Back then, banks shifted the parts of their business that were affected to other locations to avoid the tax, which was abolished in 1991. Former Finance Minister Anders Borg said in 2011 that Sweden shouldn't reintroduce such a levy because earlier experiments showed that banks just moved their business to London.
Finnish Experience
Finland tested bank taxes more recently, creating a temporary levy in 2013 intended to last three years. Though corporate taxes paid by the financial industry to the Finnish state rose the year the tax was introduced, Nordea's payment to Finland declined, according to tax office records.
Wahlroos said Finland's case shows bank taxes have a dubious track record.
"I would just advise, and I am not threatening in any way -- I am just in a very kind way advising the people who plan this to think twice because the experience is not very good," he said.
Before it's here, it's on the Bloomberg Terminal.
LEARN MORE