Yahoo Sues Ex-Staffer Claiming She Gave Secrets to Writer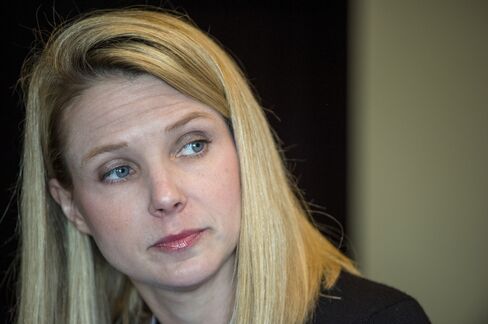 Yahoo! Inc. sued a former employee over claims she "brazenly" divulged confidential information about the company to a reporter who was writing a book about Chief Executive Officer Marissa Mayer's leadership.
Yahoo claims that Cecile Lal, a former senior director of product management, broke a confidentiality agreement when she leaked proprietary information to the journalist that she learned during "FYI" meetings with Mayer, according to a complaint filed in state court in San Jose, California.
Lal's assistance last year to Nicholas Carlson for his book, "Marissa Mayer and the Fight to Save Yahoo!," included searching confidential archives to support his writings and giving him her credentials to a password-protected site, according to the complaint.
"Indeed, Lal was eager to divulge Yahoo's secrets, even telling Carlson in response to a specific request that '[i]fyou know the date of FYI exactly or other topics discussed on that day, it will help [in] finding' the information he sought," Yahoo's lawyers said.
The book, which received some positive reviews, charts Mayer's effort to turn around Yahoo, which has struggled to deliver revenue growth. While the book portrays her as a sometimes effective and tenacious leader, it also lays out the many difficulties she faces to drive success at a company that helped pioneer the Internet.
Amended Complaint
Yahoo described Lal as a former chief of staff to a senior vice president in its original May 6 complaint. The company corrected itself in an amended version of the lawsuit filed Friday, omitting the chief of staff title.
The company accused Lal of breaching her contract and fiduciary duty, saying that in addition to leaking sensitive information from FYI meetings with Mayer, she provided Carlson with transcripts of question-and-answer sessions between employees and the CEO that were stored in Yahoo's password-protected intranet "Backyard."
The information "inevitably ended up in the hands of Yahoo's competitors," which caused Yahoo to lose a competitive advantage, according to the complaint.
Destabilized the Trust
"Lal's breach of trust and confidentiality also destabilized the trust on which Yahoo relies in providing its employees with the greatest level of information Yahoo has ever shared with its workforce," Yahoo said.
Lal and Carlson declined to comment on the lawsuit.
Rebecca Neufeld, a spokeswoman for Yahoo, also declined to comment on it.
"I've got a few recommendations already, but I'm looking for a very good first amendment lawyer, if you know one," Carlson wrote in a Twitter post.
Carlson, chief correspondent for Business Insider, wrote in the book that he relied heavily on anonymous sourcing because Yahoo declined to cooperate with him.
"Not only did Yahoo PR and Mayer not participate, each told Yahoo employees, former Yahoo employees, personal friends, former colleagues, current colleagues, and admirers not to speak with me for the book," he wrote. "Many of the sources who provided me documents and agreed to be interviewed by me did so at the risk of their careers inside Yahoo, Google, and around the Internet industry."
The case is Yahoo! Inc. v. Lal, 115cv280271, California Superior Court, Santa Clara County (San Jose).
Before it's here, it's on the Bloomberg Terminal.
LEARN MORE