One BRIC Member Squirreling Record Reserves Before Fed Storm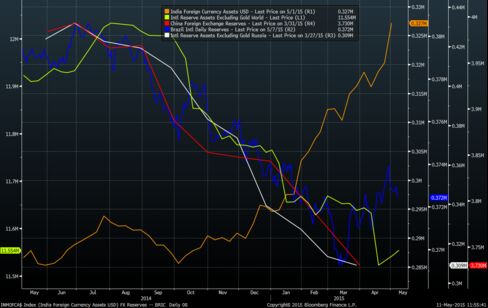 Two years on from the emerging-market squall that offered a demonstration of what might happen when the U.S. Federal Reserve finally raises interest rates, there's one BRIC member that stands out for preparing for the storm.
India central bank Governor Raghuram Rajan has methodically built up a record $320 billion stockpile of foreign-currency reserves, which are up 14 percent from a year ago. By contrast, stockpiles have shrunk in Brazil, Russia and China.
That's offering greater insulation to India to defend the rupee when the Fed starts removing some of the unprecedented stimulus it's been injecting into the global system since 2007. Helped by cheaper energy imports and a growth outlook surpassing China's -- according to the International Monetary Fund -- India will need all the resources it can muster to minimize an exodus of capital, given its continuing external financing needs.
"It's been a very prudent and smartly managed process by Rajan," said Jonathan Cavenagh, a currency strategist at Westpac Banking Corp. in Singapore. "He's been using the capital inflows into India over the past 18 months as an opportunity to really repair the foreign-exchange reserves position and those benefits are going to start to pay off."
Taper Tantrum
The central bank will now be able to smooth moves of the rupee, which on Thursday fell to its weakest level since Rajan became governor, Cavenagh said. The currency rebounded 0.4 percent to 63.9725 per dollar as of 2:37 p.m. in Mumbai on Friday, according to data compiled by Bloomberg.
The rupee was among currencies that plunged to a record when the Fed first signaled a reduction in stimulus in May-June 2013 -- an episode known as the taper tantrum -- pushing India to the brink of a balance-of-payments crisis.
"India's vulnerabilities have fallen compared to the tapering tantrum in 2013," Arjen van Dijkhuizen, senior economist at ABN Amro Bank NV in Amsterdam, wrote in a report earlier this week. "Keeping reforms on track is key" for Prime Minister Narendra Modi's government to sustain India's progress, he wrote.
Rajan initially boosted reserves by swapping dollars from banks at discounted rates. Later, he bought chunks of the unprecedented $42 billion in stock and bond inflows that poured into India as growth picked up, inflation slowed and the current-account deficit shrank, helped by a slump in global oil prices.
Global Reserves
India's foreign reserves "have kept us in the game" in recent months by helping limit the rupee's depreciation against the dollar, Finance Minister Arun Jaitley said in New Delhi last week.
"We are net buyers of oil, edible oil, even pulses, electronic items, these are essential items for which we require a large amount of foreign exchange," he said. "We can't afford to deplete our resources because if the resources itself go down then the value of our currency weakens."
Global reserves fell 3 percent over the past year. China sold 5.5 percent of its reserves, the world's largest at about $3.7 trillion. Brazil's stockpile slipped 1.6 percent to $373 billion and Russia burned through 30 percent of its holdings, now at $309 billion, according to the latest available data compiled by Bloomberg.
The build up in reserves would also contribute toward India's long-stated goal of a free float for the rupee. The process to make the currency freely tradable against others was started about a decade ago, and Rajan last month reiterated he's hoping for full convertibility in a "short number of years."
To be sure, Rajan had little option other than to build up the nation's reserves. If investors do rush to exit emerging markets in favor of the U.S., India won't be immune, said Dariusz Kowalczyk, senior economist at Credit Agricole SA in Hong Kong.
India's Vulnerabilities
"Clearly India is vulnerable and the rupee will suffer as a result of capital outflow," Kowalczyk said. "It will also be more difficult to refinance foreign currency debt, so that is another vulnerability."
The rupee will stay between 64 and 66 a dollar in the next 12 to 18 months as "opposing tugs" require the Reserve Bank to both sell and buy the currency, according to economists at Deutsche Bank AG. While too big an appreciation would hurt competitiveness, a weakening would worry investors and squeeze local companies that borrow in dollars, Taimur Baig and Kaushik Das wrote in a May 8 research report.
$400 Billion
India needs to build its total reserves -- including gold and Special Drawing Rights -- further to about $400 billion from $345 billion to withstand a strong negative external shock, Goldman Sachs Group Inc. analysts estimated in March. Still, India's is a "happier story" compared with many other emerging markets, they said this week.
India "arguably was the worst hit in the initial phases of the 'taper tantrum' but has moved towards the origin and is currently in a much more balanced state," Goldman analysts including London-based Kamakshya Trivedi wrote in a May 6 report. "The recent reversal in oil prices will be an important test of whether these improvements can be sustained."
Before it's here, it's on the Bloomberg Terminal.
LEARN MORE