Soccer Pirates Shift to TV From Computers as Set-Top Boxes Surge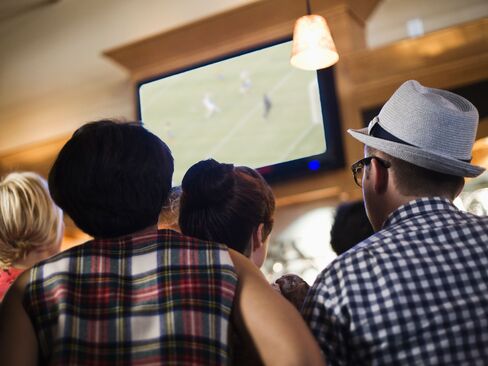 In his 32 years as a cop, John McGowan oversaw investigations into murders, drug deals and terrorism. These days, most of his sleuthing involves watching soccer in pubs and hotels.
After retiring 15 years ago as a police superintendent in Scotland, McGowan began working for a company that hunts for unauthorized broadcasts of soccer games and other sports events -- a job that's gotten more complex lately with growing sales of set-top boxes that can be hooked directly to televisions to show pirated games and films.
"There's a lot of old-style detective work," said McGowan, director of operations for Glasgow ID Inquiries, which does investigations for the English Premier League. "Walking around, going into pubs to see what they're showing, paying attention."
Sales of the devices, which can cost as little as $30 for a box plus a year of programming, have surged in recent months, according to researcher Irdeto USA Inc. The company says the number of websites selling them has more than doubled since November, to almost 450, and that new sites are popping up daily. More than 2.4 million illegal boxes are in use worldwide, Irdeto estimates.
The growth threatens revenues of soccer leagues and of broadcasters such as Sky Plc and BT Group Plc., which in February agreed to pay 5.1 billion pounds ($7.7 billion) for the U.K. rights to live English Premier League soccer for three years. If everyone with an illegal box were to buy a full-price subscription, broadcasters would see at least $553 million a year in new revenue, Irdeto estimates.
A hacked box can be purchased online, typically from vendors in China. When it arrives, getting it to work involves little more than plugging one cable into the TV and another into the Internet. The suppliers set up the box to automatically -- and illegally -- receive content from pay-per-view companies such as Sky Plc or Spain's Promotora de Informaciones SA, or Prisa, which broadcasts Spanish matches.
The vendors usually pay for a single legal subscription to the broadcasts, feed that into a server somewhere -- often in China or the former Soviet Union -- and then route the programming to anyone who buys their boxes. That gives users access to matches of the likes of Manchester United and Real Madrid without subscribing to Sky or Prisa, which charge as much as 47 pounds ($70) monthly for their sports programming.
Until about two years ago, most piracy was done via streaming to a computer, said Rory O'Connor, a vice-president at Irdeto. The set-top boxes offer several advantages: They don't flood the screen with pop-up ads, TVs aren't vulnerable to the viruses that can threaten PCs, and the signal doesn't jump and freeze as much as Internet broadcasts do.
"People can get high-definition services that are more stable than Internet streaming, and it can be very difficult to tell a pirate service from a legal one," O'Connor said.
In recent years, police and courts in dozens of countries have shut down websites that rebroadcast live programming without permission -- the Premier League says it blocked 45,000 sites worldwide last season -- but the pirates often resurface with different names. People who buy the boxes for home viewing face some legal risks, though they're small, according to Samuel Parra, a Spanish attorney who specializes in cyber law.
"It's very difficult to go after the user, but the law is being worked on in Spain and other parts of Europe to make it easier," Parra said.
Set-top boxes open up a new front in the fight against piracy. The shift shows that those who sell illegal broadcasts are seeking new business models and taking steps to make viewing even easier for buyers, according to Alex Martinez Roig, general director for content at Prisa.
"These pirates don't play by the rules," said Martinez Roig. "We haven't yet found a way to react to them. This is newer and more dangerous than streaming."
Before it's here, it's on the Bloomberg Terminal.
LEARN MORE