Shareholders' Demands for Action on Environment Higher Then Ever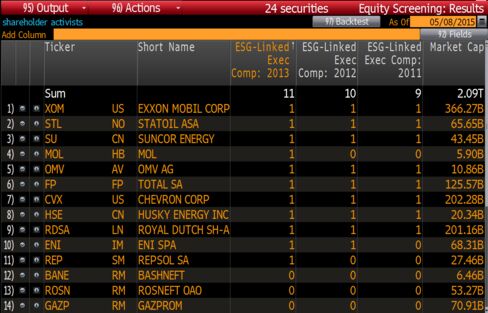 At least 14 energy companies are facing shareholder resolutions on environmental and social policies this year, part of a record push by investors to raise concerns about how executives manage the issues.
More than 190 resolutions have been proposed this year, up 88 percent since 2011 when Ceres, a Boston-based coalition of investors with more than $13 trillion in assets, began collecting the data. Exxon Mobil Corp., Royal Dutch Shell Plc., Total SA, Chevron Corp. and Eni SpA are among the major oil companies targeted, according to data compiled by Bloomberg.
The findings reflect uncertainty among investors about how management is addressing climate change as governments show more concern about the issue, said Gregory Elders, an environmental, social and governance analyst at Bloomberg Intelligence.
"There's a contingent of investors who are worried about climate change, methane emissions, water pollution and other issues," Elders said in London after publishing the research on Friday. "Companies realize they have to take more concrete action and to do more than just talk about the issues."
More than half the resolutions pressure management to identify risks associated with climate change, rein in greenhouse gases or assess methane emissions. Shareholders also are seeking more reporting on water pollution, sustainability issues and a link between executive compensation and environmental practices.
Avoiding Confrontation
While these formal expressions in past years typically have gained the backing of only about 25 percent of shareholders, most companies acquiesce to demands to avoid confrontations with activists during annual meetings, according to the research.
Last year, Exxon headed off a vote on a similar issue by issuing a report showing a surge in demand for energy in the decades ahead, especially for natural gas. This year, shareholders are calling for the oil company to return capital instead of investing in assets that risk becoming "stranded" by future climate regulations, the research showed.
"Investors want more disclosure of climate change risks for fossil fuel companies and clear executive compensation links for sustainability performance," Elders said. "The resolutions reflect uncertainty over how management is addressing potential business risk."
Before it's here, it's on the Bloomberg Terminal.
LEARN MORE