Scots Landslide Sees Youngest Lawmaker in Modern History Elected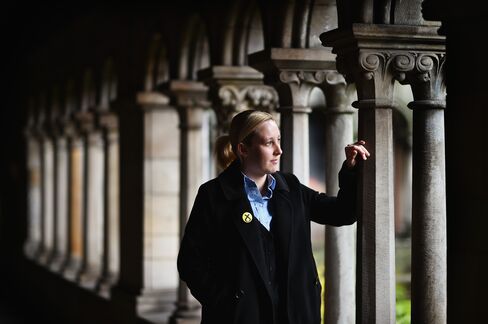 The landslide for the Scottish National Party has already created another bit of history: the youngest member of the House of Commons in modern times.
SNP candidate Mhairi Black, a 20-year-old Glasgow University student, defeated the opposition Labour Party's campaign chief, Douglas Alexander. Until today, the youngest lawmakers since the Reform Act of 1832, which marked the start of modern parliamentary democracy in Britain, have all been 21, though there are records of teenagers in earlier centuries.
"The people of Scotland are speaking and it's time for their voice to be heard in Westminster," Black said after the result was announced in the constituency of Paisley & Renfrewshire South, which she will now represent.
Labour is facing being wiped out in Scotland, with an exit poll showing the SNP taking 58 of 59 seats north of the border. At the last election in 2010, Labour took 41 seats there.
Read more: SNP Roars to Landslide in Scotland
Black's victory emphasizes the scale of the swing in support. In 2010, Alexander took almost 60 percent of the vote in the constituency, compared with 18 percent for the SNP. On Thursday, Black took 51 percent and Alexander won 39 percent of the vote.
"Even six months ago I didn't see it ever happening," Black said in an interview with Sky News. "The people of Scotland were hungry for change. They've been looking for the party that are going to deliver that."
http://www.bloomberg.com/graphics/2015-uk-election/constituency.html#446
Before it's here, it's on the Bloomberg Terminal.
LEARN MORE