Scene Last Night: Ackman, Fink, Noah Cooper, Lisa J. Donahue
Cancer biologist Christine Mayr found common ground Thursday night with Bill Ackman.
"We both want to do things that no one else has done," Mayr said after she chatted with the hedge fund manager at a dinner celebrating the winners of the Pershing Square Sohn Prize for Young Investigators in Cancer Research. She said they shared a love for digging into subjects.
Mayr, who received a doctorate in immunology from Humboldt University in Berlin in 2001, was one of the six prize recipients. Her work at Memorial Sloan Kettering Cancer Center focuses on how to "inhibit the cancer-promoting function in a protein."
Ackman established the prize through his Pershing Square Foundation to support groundbreaking investigation that wouldn't otherwise receive conventional funding.
During the dinner, in a beautifully restored period room at the Park Avenue Armory, the activist investor directed attention to what he called scientific seating.
"If you think it's an accident who you're sitting next to, you're wrong," he told about 80 guests.
He was referring to Olivia Flatto, the dinner's impresario, a scientist herself before she became a philanthropist and the executive director of the Pershing Square Sohn Cancer Research Alliance.
Fink, Bratton
Ackman sat at the center table with the winners, Timothy Chan, Arvin Dar, Evripdis Gavathiotis, Moritz Kircher, Sohail Tavazoie and Mayr. Also here were Dr. Laurie H. Glimcher, dean of the Weill Cornell Medical College, and Craig B. Thompson, president and chief executive officer of Memorial Sloan Kettering.
Harold Varmus, who's working with the New York Genome Center and on the Weill Cornell faculty, and Kinga Lampert, of the Breast Cancer Research Foundation, were also present.
Let's just say if anything had happened to the people in that room, cancer research in New York would have suffered a major setback.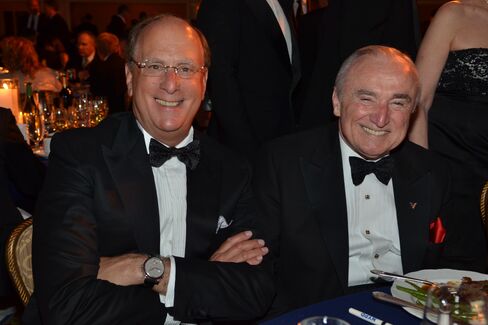 Meanwhile Wednesday night, Larry Fink, chairman and CEO of BlackRock Inc., was well protected by his dinner partner, New York Police Department Commissioner Bill Bratton. The two dined on beef and mashed potatoes in the Waldorf Astoria's ballroom for the New York Police Foundation benefit, where Fink was honored and a record $3.46 million was raised.
At another event a few days earlier, Noah Cooper, 29, a sales person in global mortgages and securitized products at Bank of America Merrill Lynch, gave a boost to research on a cardiac and respiratory technique called extracorporeal membrane oxygenation, or ECMO.
College Friends
Cooper fainted two years ago on a treadmill because of a severe arrhythmia; ECMO that he received at New York-Presbyterian Hospital was integral to his recovery. Afterward, he and Rob Sanzillo, a lawyer whose father also benefited from the treatment, founded Hearts of ECMO.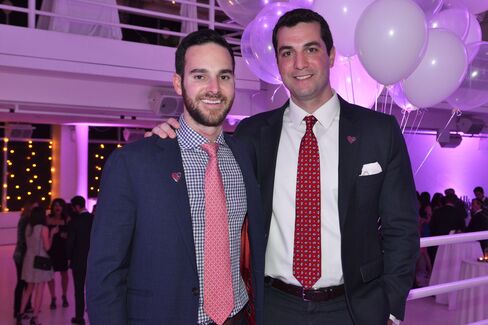 For their Saturday night fundraiser, the pair drew on support from their wide circles of work and college friends. The crowd was fancy in suits and cocktail dresses and raised more than $120,000 for a study at the University of Toronto.
Lisa J. Donahue, chief restructuring officer of Puerto Rico's power authority, was very much on the grid of New York-based charitable restructuring advisers Wednesday night.
Donahue, global head of turnaround and restructuring services at AlixPartners, was an honoree at the annual benefit for Her Justice, which raised more than $2.1 million to provide free legal services to low-income women. Paul M. Basta, a senior partner in the restructuring group of Kirkland & Ellis LLP, was also honored.
Restructuring Advisers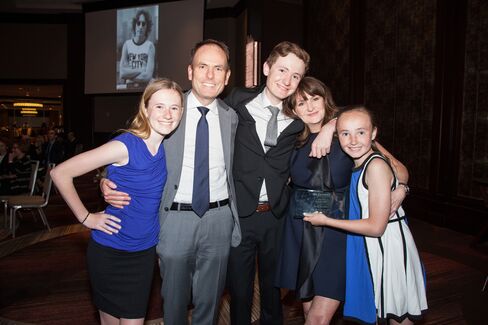 Donahue said she credits U.S. Bankruptcy Judge Shelley C. Chapman, then an attorney in private practice, with bringing her and other members of the restructuring community to Her Justice, formerly known as inMotion.
Chapman, Brad Eric Scheler of Fried Frank Harris Shriver & Jacobson LLP and Bryan P. Marsal of Alvarez & Marsal were key early supporters of the organization who helped make its benefit a who's-who gathering of turnaround professionals.
Among about 1,000 guests were Blackstone's Steven Zelin, head of Zolfo Cooper's U.S. practice Joff Mitchell, and restructuring specialist Harry Wilson of Maeva Group LLC.
Basta's colleague James Sprayregen, currently leading the representation of Caesars Entertainment Operating Co. in its bankruptcy case, was also in attendance.
As for the big deals that went down at the Sheraton New York Times Square Hotel, they were executed with paddle-raises in a frothy photography auction.
Lennon Photo
A Mitch Epstein photo of an elm tree in Manhattan's Central Park sold for $16,000 as did a James Bleecker print of the Freedom Tower with Lady Liberty looking on. Daniel Kramer's 1965 photo of Bob Dylan went for $10,000.
The highest bid of the night -- $19,000 -- was for a cool shot of John Lennon in a sleeveless New York City T-shirt and dark, circular shades.
The iconic photograph was taken by legendary rock and roll photographer Bob Gruen in 1974. A son of two lawyers, Gruen was named Her Justice's first photography honoree.
Gruen said he accepted the award in honor of his mother, who practiced immigration law for more than 60 years before retiring at the age of 96.
The evening ended on a Beatles-esque note with Gruen asking the crowd to "imagine peace."
Before it's here, it's on the Bloomberg Terminal.
LEARN MORE