Rachel Comey: Iterate, Iterate, Iterate
A fashion designer's quest to make the perfect wear-anywhere outfit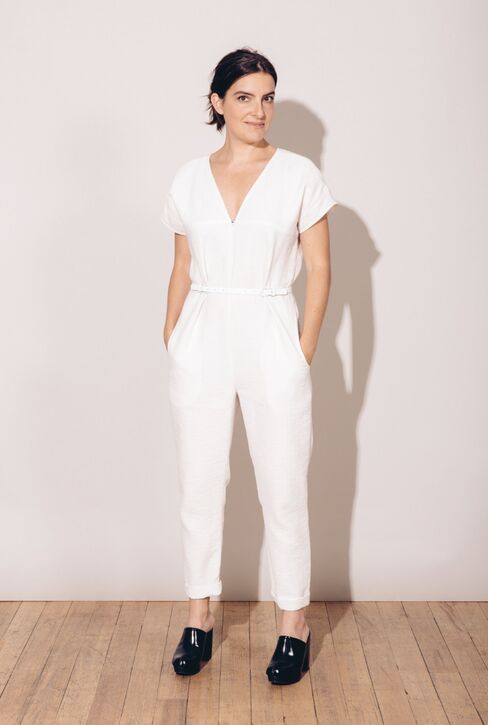 Rachel Comey didn't intend for the humble jumpsuit to become one of her signature pieces. She just liked wearing them. The New York designer has created 52 collections in the past 15 years and, among those thousands of garments, a jumpsuit has emerged as a hit most seasons. Sometimes it's short, patterned with willow branches or poodles, not much different in style from a child's romper. Other times it's grown- up, with loose, pliant pants and expensive lace. Comey's jumpsuits bear little resemblance to the coveralls that car mechanics or prisoners wear, although they share that utilitarian ethos. "It's an all-over look that you're putting on, you don't have to add anything else, and there is something strong about them," she says. "They're also kind of feminine. At least, they can be."
Comey makes clothes for women who want to look put together but not sexy. Her eponymous line is full of $470 dresses that are loudly patterned, or somewhat misshapen, or off in a way that makes them feel unique. Her $360 Bishop pants hit somewhere between hip and bellybutton, with hems that skim at the ankles. Most of Comey's garments are kind of loose—hers isn't a label that appeals just to the thin—and fall somewhere between casual and dressy. "I'm really just thinking about what modern women want to wear," says Comey, surrounded by samples of Italian fabric in her sunlit NoHo studio. "I want to give them great fits, but also fun, interesting things."
Comey doesn't push this idea very hard. She avoids paying for advertisements in stylish magazines, which in turn have basically ignored her. She holds fashion shows every spring and fall, but she got bored with a traditional runway. Instead, she invites 70 guests to an artist's studio in the Red Hook neighborhood of Brooklyn, where she serves them dinner and Scotch while parading out new styles. "Rachel has purposefully kept her company a little bit of a secret, so you have this cult of Comey," says Jen Mankins, proprietor of Bird, a chain of high-end Brooklyn fashion boutiques that's carried the label for nine years. "There's an aura about the company because it's not in every store."
The cult of Comey has its celebrity adherents, though none are paid to wear the clothes: Actresses including Maggie Gyllenhaal and Michelle Williams choose the designs for events. Newer indie stars, such as Zosia Mamet (Girls) and Tracee Ellis Ross (Black-ish), have become unofficial spokeswomen, often wearing things from Comey's first boutique, which opened in SoHo last June. Helped along by this exposure, the company did $6.2 million in sales last year, up from $5.6 million in 2013. "Rachel proves that by embracing denim and cotton, you can feel great," says Leandra Medine, another customer, who runs the fashion website Man Repeller. "You can pick your kid up from school, drop her off at pottery class, maybe paint a porcelain bowl, and meet your friends for dinner without thinking twice about changing."
Comey, 42, lives that same life. With her boyfriend, Sean Carmody, and their two kids, ages 2 and 4, she splits her time between a loft in downtown New York and their Long Island summer home, a converted laundromat. To ease the shuffle of parental and professional duties, Comey's apartment, office, and store are within a 10-block radius. She has a nonhaircut that falls unfussily at her shoulders, and she hardly wears makeup. Her own outfits—on the day we met it was a leather skirt paired with a nubby, cream-colored sweater—are meant to transcend a day's many obligations. That notion informs her creative process. "I'm not one to create a fantasy experience for my customers," she says, referring to other designers who claim their inspiration is a jet-setting heiress or another aspirational archetype. "I feel like real women are complex enough that there is enough material to work with."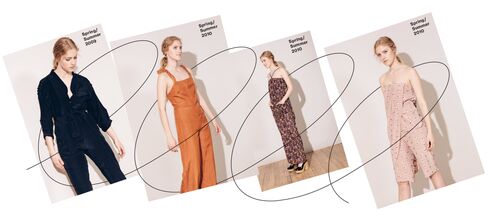 Comey took a circuitous route to this career. After graduating from the University of Vermont with an art degree, she worked in a few New England galleries. She moved to New York at 26 and got hired by Theory, Andrew Rosen's line of minimalist corporate apparel, where she made mood boards—assemblages of photos, sketches, and fabric swatches from which designers create collections. In her spare time, she hand-painted T-shirts for her then boyfriend's band; the shirts caught the eye of David Bowie, who paid her $100 for two, one of which he wore on the Late Show With David Letterman. Realizing there was some demand, Comey launched a collection of rustic men's apparel and leather derby shoes in 2000 that was picked up by luxe stores such as Barneys New York and United Arrows in Tokyo. "I was supernaive, but I recognized there wasn't anything for men that was, you know, different," Comey says. The line also developed a following among women, who would buy extra-small sizes.
By 2004, Comey decided she wanted to focus exclusively on women's clothes. Private investors weren't pouring money into apparel back then, so she financed the business using a dozen zero-interest credit cards, transferring balances from one to another as soon as the fees kicked in. To cover her own living expenses, she worked temp jobs at the design studios of Gap and other big brands. "You would get paid so well to literally make photocopies," she says. So Comey stood in front of a Xerox machine all day, while calling unpaid interns and dispatching them to pick up buttons or fabric for her own line. Then as now, most of Comey's clothes are made in New York. The line's footwear is manufactured in Brazil, Peru, and Portugal.
Actually, it's the shoes that first defined her brand's aesthetic. Wooden-soled clogs were Comey's first specialty—"there's a lot you can do with clog," she jokes now—until a single style took off in 2008. The Penpal, a black leather ankle boot with a chunky wooden heel and rounded toe, became a hit among stiletto-weary women. Waitlists formed, and dozens of companies, from Aldo to Dries van Noten, riffed on it. In 2009, Comey rebranded it as the Mars boot. She modifies it slightly each season—sometimes the heel is blond wood, other times it's black—and has sold almost 13,000 pairs since 2012. (Shoes represent 40 percent of Comey's total sales.) "You know, there was a moment where I was like, 'I think we've done this boot before,' " Comey says. "But then the retailers and my salespeople just kept asking for it."
Like a software designer, she'll now tweak her creations ever so slightly, then release a version 2.0 one or two seasons later. The strategy, whether applied to boots or jumpsuits, ensures the brand has a consistent, nontrendy look, which keeps customers coming back. Blouses that zipped down the front first caught on with women who didn't want a boring oxford shirt. Later, they became hot among new mothers who were nursing. "There are some pieces that are riskier, of course, but I'm trying to stay focused on wearability," she says.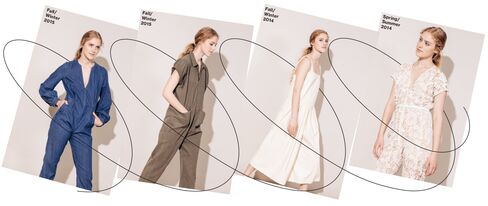 Despite her following, Comey appears visibly uncomfortable when talking business, tugging at the collar of her sweater or fidgeting with the printouts of shoes in front of her. Unlike her competitors—labels like 3.1 Phillip Lim, Steven Alan, and Rag & Bone—she hardly has a social media presence. She hired a marketing manager last year but says they haven't settled on a strategy. She also says she wants little to do with it. "My interests are in manufacturing, and design, and product, and textiles," Comey says, trailing off. "I'm not a photographer, and I sort of think it's a bummer to have to experience my brand as we've laid it out through images on the Internet." She would much prefer women come see the clothes for themselves.
Unlike the 111 retailers that carry her line but tend to stock bolder items, Comey's store has the entire range. Some of the least daring pieces, such as pants in solid fabrics, have proved popular on the sales floor, and Comey is planning a second location, in Los Angeles, for later this year. In October she hired her first director of operations, Alexandre Pham, who was responsible for building up French brand A.P.C.'s retail presence in America.
Recently, at a meeting with one of her managers, Comey asked about the new, older customers who had popped into the store while they were wandering around the neighborhood and since have become regulars. "They were expressing how they feel so excited to wear things now and more confident in their workplace," Comey says. A few days later, on a Wednesday evening in late April, two women are lounging among the cactuses and clogs in the boutique, chatting with the staff as if they're all old friends. "I would wear the s--- out of this," one says, examining a coral-hued romper. She tells the shopgirl that she has a date later that night. Then back she goes, into the dressing room, to put on her new look.
Before it's here, it's on the Bloomberg Terminal.
LEARN MORE