Monsanto Needs to Decide If Laggard Syngenta Warrants Higher Bid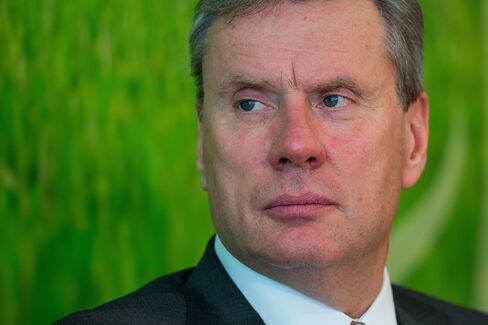 Monsanto Co.'s rejected $45 billion bid for Syngenta AG forces the suitor to ask itself the same hard question as disappointed shareholders of the target company: is the Swiss maker of agrochemicals really worth more?
Before the offer was unveiled on Friday, investors suffered a 2.9 percent drop in Syngenta's share price over the last 12 months as the Swiss company struggled to keep pace with peers. As shareholders consider the ramifications of Monsanto's cash-and-share bid, buoyed by a 17 percent jump in Syngenta's stock price on Friday, Monsanto must decide the merits of a higher offer to become the world's biggest player in both seeds and crop chemicals.
Monsanto's unsolicited approach heaps pressure on Syngenta Chief Executive Officer Mike Mack to show that he can go it alone, and that the changes he instigated will pay the best dividends. So far he's struggled to convince some investors that grouping Syngenta's products into specific crop lines will bring in extra sales, and that enough effort has been put into getting new techologies to the market. He's pulled back on the integrated product strategy in the U.S. to defend market share in seeds.
"The fact is that Syngenta management is under enormous pressure," said Baader Bank AG analyst Markus Mayer. "The market doesn't believe in the goals Syngenta has set itself."
Still, Syngenta rebuffed the proposal, saying it doesn't reflect "outstanding growth prospects" and "future value potential." Besides, Monsanto is underestimating the "significant execution risks, including regulatory and public scrutiny at multiple levels in many countries," Chairman Michel Demare said.
Higher Offer?
Monsanto would have to raise its 449 francs-a-share offer to more than 500 francs a share to win over Syngenta's board, according to a note by Liberum analysts including Sophie Jourdier. Makor Group analyst Alex Olvera said in a separate note that Syngenta probably wouldn't accept an offer below 473 francs a share.
Monsanto, the U.S. maker of genetically-modified seeds and Round-Up weedkiller, timed its approach with a lull in Syngenta's performance amid currency moves and lower crop prices. Costs tied to the reorganization of Syngenta along product lines offset some of the growth in volumes and prices. Mack has now implemented a cost-cutting program to help save $1 billion by 2018 as the major global players in the agrochemical industry face a slowdown in spending on crop-care products.
Antitrust Risks
With a proposed equity component of 55 percent, shareholders of Syngenta would need to buy into the idea that creating a strong market leader in seeds and crop chemicals would patch up the Swiss company's weaknesses, with the rewards outweighing the political and antitrust risks.
"Maybe Syngenta's integrated strategy is working in emerging markets and Monsanto feels they can implement the integrated strategy better in the U.S.," Jeremy Redenius, an analyst at Bernstein, said in a note considering why Monsanto would want to buy the company.
JPMorgan analysts including Ben Scarlett and Martin Evans said a combination would also allow Monsanto to slash costs by as much as $700 million by combining adminstrative and sales operations.
The current offer values Syngenta at about 17 times its earnings before interest, taxes, depreciation and amortization in the last 12 months. Large agrochemical transactions in the last decade have commanded a median multiple of about 12 times, so a purchase of Syngenta would also rank as one of the industry's more expensive deals, according to data compiled by Bloomberg.
Baader's Mayer suggested that Monsanto may also need to look at changing the equity-cash ratio of its offer.
"This is not the end of the negotiations," the analyst said. "Currently the deal is more in favor for Monsanto than Syngenta's shareholders due to the low cash component."
Before it's here, it's on the Bloomberg Terminal.
LEARN MORE