Loeb Says Don't Worry About Rates as Stocks Gain on Profits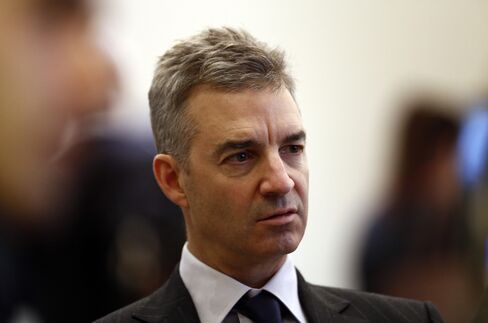 Hedge-fund manager Daniel Loeb said he expects that rising corporate profits will present opportunities for stock investments even if the Federal Reserve lifts interest rates.
"We're not concerned about a rate hike," Loeb said Friday in a conference call discussing results at Third Point Reinsurance Ltd., the Bermuda-based reinsurer that he co-founded.
Fed Chair Janet Yellen said Wednesday that equity market valuations are "quite high" as investors look for alternatives to low bond yields. Most Fed officials predict that the central bank will raise its benchmark interest rate this year for the first time since 2006. Labor Department figures Friday showed that U.S. unemployment in April fell to the lowest since May 2008.
Interest rates "will go up if the economy is growing," Loeb said. "We think that equities are going to trade on prospective earnings appreciation."
Third Point Re's first-quarter profit advanced 27 percent to $50.5 million, according to a statement Thursday. Premium revenue climbed after the company opened a U.S. office to add business amid increased competition in the insurance industry.
Dow, Actavis
Third Point Re jumped 2.6 percent to $14.32 at 10:11 a.m. in New York trading, the biggest increase since February. The stock had slipped 3.7 percent this year through Thursday's close after falling 22 percent in 2014.
The reinsurer said that investment income climbed to $64.9 million from $50 million a year earlier on gains in structured credit and Argentina debt. Stocks also helped results, including investments in Dow Chemical Co. and Actavis Plc.
Loeb took a question on the call from Kai Pan, an analyst at Morgan Stanley, who asked about declines in the short portfolio, where Third Point bets on securities to decline.
"In the old days we used to hope to make money on the long book and the short book," Loeb said. "I think that's very difficult to do. Obviously there will be months here and there where we get lucky and we do manage to do that."
Before it's here, it's on the Bloomberg Terminal.
LEARN MORE