Liberia to Be Declared Ebola-Free Six Weeks After Last Burial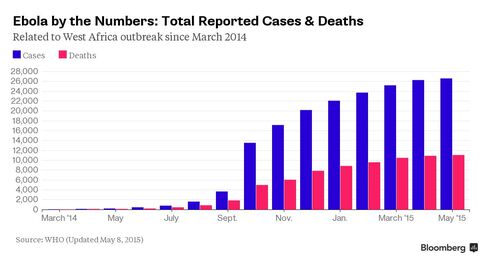 Liberia, the country with the most deaths in the current Ebola outbreak, may be declared free of the virus tomorrow, according to the World Health Organization.
May 9 marks 42 days since the burial of the last confirmed Ebola victim in the West African nation, according to the Geneva-based WHO. That's twice the longest-known incubation period for the virus, the marker for declaring the outbreak over in a country. Sierra Leone and Guinea are still reporting additional Ebola cases.
"It was remarkable when I was there last week to see children going off to school, and the early-morning energy of Monrovia like it used to be," David Nabarro, appointed by United Nations Secretary General Ban Ki-moon to oversee the Ebola response, said in a telephone interview on Friday.
Ebola has killed 4,716 people of the 10,564 infected in Liberia, the WHO said in a report. The outbreak more than halved economic growth in the nation last year, as rubber exports slumped by 40 percent in the first three quarters and investors stayed away, according to the World Bank. Growth will be 3 percent this year, compared with an estimate of 6.8 percent before the outbreak, the bank said in a report in January.
Liberian President Ellen Johnson Sirleaf will lead government officials on a tour of health facilities tomorrow. She will also visit the Ebola Command Center, where a ceremony will be held during which WHO will declare Liberia free of the disease, according to Assistant Health Minister Tolbert Nyenswah, the head of the country's Ebola Incident Management System.
The country will have to remain vigilant, Nabarro said, because in previous outbreaks there has been a 50 percent recurrence of cases within a year.
The number of new Ebola infections has slowed in recent weeks. Since the outbreak began last year, Sierra Leone has reported the highest number of cases, with 12,440, and 3,903 deaths, according to WHO data up to May 3. Guinea has the worst survival rate, with 3,589 cases and 2,386 deaths.
For more, read this QuickTake: One of the Deadliest Diseases on Earth
Before it's here, it's on the Bloomberg Terminal.
LEARN MORE