German Industrial Production Falls as Economy Risks Grow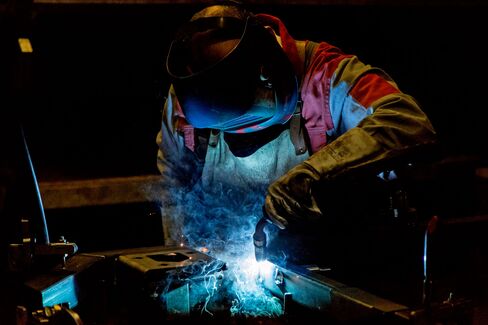 German industrial production unexpectedly declined in March in a sign that Europe's largest economy remains vulnerable to global economic weakness.
Output, adjusted for seasonal swings and inflation, fell 0.5 percent after stagnating in February, data from the Economy Ministry in Berlin showed on Friday. The typically volatile number compares with a median estimate of a 0.4 percent gain in a Bloomberg survey. Production rose 0.1 percent from a year earlier.
Patches of economic weakness around the world and the stand-off between Greece and its creditors risk dragging on an accelerating recovery in the euro area, Germany's biggest trading partner, even as the European Central Bank is making large-scale asset purchases. Yet, German business confidence is at a 10-month high and the Bundesbank predicts "quite robust" economic growth for this year.
"Today's data have created uncertainty, rather than clarity," said Carsten Brzeski, chief economist at ING-DiBa AG in Frankfurt. "The German growth picture seems to be more mixed than buoyant sentiment indicators have been suggesting. Industrial production is clearly stagnating, reflecting still-weak demand from other euro-zone countries but also a continued investment drought."
The euro extended its decline after the report and traded at $1.1199 at 9:06 a.m. Frankfurt time, down 0.6 percent. The benchmark DAX Index was up 0.8 percent.
Moderate Start
Manufacturing output fell 0.8 percent in March from the previous month, with investment-goods production down 1.4 percent, according to the report. Industry output rose 0.5 percent in the first quarter, the ministry said, bolstered by a 2.3 percent increase in construction.
"The industrial sector had an overall moderate start to the year," it said in an e-mailed statement. "Manufacturing especially stumbled in the past months. Important sectors for the economy such as engineering and the car industry are currently lacking momentum."
A measure of factory activity in Germany and the euro area signaled slowing output in April, according to Markit Economics. At the same time, manufacturers raised prices for the first time in eight months, providing evidence that the foundations of the feeble recovery are strengthening.
Factory Orders
Factory orders, a gauge of future output, rose in March after two months of decline, the statistics office said Thursday. While the trend continues to be positive, orders dropped 1.5 percent in the first quarter amid sluggish demand from abroad, it said.
In March, exports rose 1.2 percent from the previous month, while imports surged 2.4 percent, the Federal Statistics Office in Wiesbaden said in a separate release. The trade surplus widened to 23 billion euros ($26 billion) from 19.5 billion in February.
First-quarter growth data will be released on May 13. Economists forecast an expansion of 0.5 percent, compared with the 0.7 percent recorded at the end of last year.
On Tuesday, the European Commission raised its economic outlook for the euro area, with gross domestic product projected to increase 1.5 percent this year, up from a prediction of 1.3 percent in February. Germany's economy will continue outpacing the region, expanding 1.9 percent this year and 2 percent in 2016, according to the report.
"The fundamentals look good and German manufacturers should benefit from the weaker euro and the higher growth in neighboring countries," said Johannes Gareis, an economist at Natixis in Frankfurt. "Yet, there are some worries, which include China's economic struggles, the question marks hanging over the state of the U.S. economy and continuing Russian woes."
Before it's here, it's on the Bloomberg Terminal.
LEARN MORE