Dollar Slump Seen Restoring Links Between Gold and Money Supply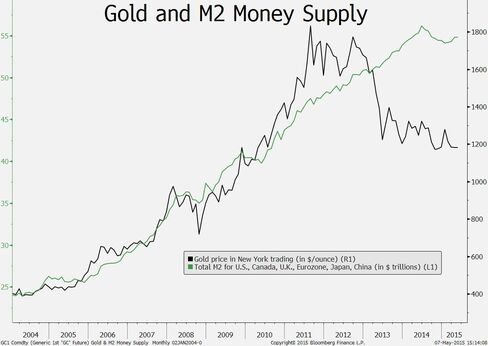 Gold may start catching up to money-supply growth around the world now that the dollar's value is falling, according to Stephen D. Walker, head of global mining research at RBC Capital Markets.
The attached chart tracks the relationship between the precious metal's price and the combined M2 money supply of the U.S., Canada, the U.K., the euro region, Japan and China, based on data compiled by their central banks. M2 consists mainly of cash, checking and savings deposits, and investments in money-market mutual funds.
Gold's price had an 89 percent correlation with the M2 totals during the past decade, according to a report by Walker and a dozen colleagues that had a similar chart. The comparable figure for U.S. M2 has been 83 percent since 1975, they added.
"The correlation has broken down over the past few years due to USD strength," they wrote in the May 5 report, using a symbol for the dollar. "We would expect greater correlation should the USD weaken."
The Bloomberg Dollar Spot Index fell as much as 5 percent during the past eight weeks after setting a record on March 13. The index reflects the U.S. currency's value against all five currencies represented in the M2 data, as well as five others.
Anticipation of an end to bond buying by the Federal Reserve and the start of interest-rate increases also explain why gold stopped tracking growth in the money supply, according to the Toronto-based Walker and his colleagues. Breakdowns also happened in the mid-1980s and early 2000s when the dollar was rising in value, their report said.
Before it's here, it's on the Bloomberg Terminal.
LEARN MORE