Chanos's Gloom Rebuffed by World's Biggest LNG Producer-to-Be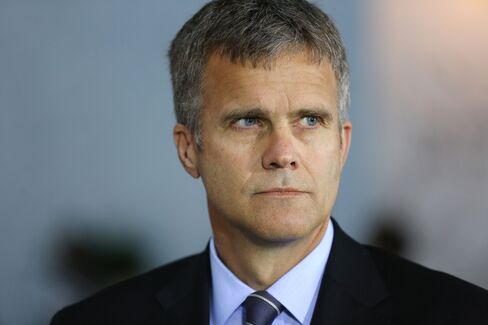 BG Group Plc, set to become part of the biggest international liquefied natural-gas supplier, rebuffed hedge-fund manager Jim Chanos's doomsday outlook for the industry.
"Everyone is entitled to have their view on how the market develops," said Helge Lund, chief executive officer of BG, the U.K. company that agreed last month to an acquisition by Royal Dutch Shell Plc that would create the top LNG producer. "We believe gas will take up a larger share of future energy."
LNG demand will grow as much as 6 percent a year through the end of the next decade, Lund said on a conference call Friday.
For Chanos, founder of New York-based Kynikos Associates, the industry is "disaster waiting to happen" and he's betting against Shell, BG and Chevron Corp. Chanos, who predicted the collapse of Enron Corp. in 2001, says LNG capacity is going to "skyrocket" and demand has been flat for the past few years.
The crux of the disagreement is whether rising demand for gas in Asia will be sufficient to soak up supplies of the fuel blasted out of U.S. shale deposits and coming from new reserves discovered from Africa to Australia. Demand for the fuel is creating a rush among companies to build LNG export plants.
Lund, in charge of LNG projects from Australia to Trinidad & Tobago and with plans for capacity in North America, has set targets for BG that will be a first test of his positive view.
Raised Forecast
The company on Friday raised its forecast for LNG profit in
2015. A rebound in oil prices this year, favorable weather and a switch to using earnings before interest, taxes, depreciation and amortization from operating profit for its estimate led BG to increase the annual outlook to $1.3 billion to $1.5 billion, Chief Financial Officer Simon Lowth said. It previously estimated $700 million to $1 billion in operating profit from the business.
"I'm more in line with Helge Lund on LNG demand and LNG producers," Jason Kenney, European head of oil and gas equity research at Banco Santander SA, said by phone from Edinburgh.
BG, which also trades other producers' LNG, reported first-quarter profit on Friday that beat analyst estimates after a better-than-expected performance in the gas business.
Gas is becoming a favored fuel as it's cleaner to burn than coal and oil, prompting the International Energy Agency to say in 2011 that the world was entering into the "golden age of gas." China, the biggest energy user and carbon emitter, set a target to more than double use of the fuel by 2020 from 2013 levels.
Billions Spent
The question is whether producers, already anticipating the rush to gas and seeking markets for excess U.S. output of shale gas from hydraulic fracturing, will unleash too much capacity.
Billions are being spent on projects in Australia that may make it the world's biggest exporter of the fuel, surpassing Qatar. A surge in output in the U.S. and Canada means companies are lining up to build export projects there, some applying to convert import terminals to get gas to flow the other way.
Eni SpA, Anadarko Corp. and BG are among the companies that also have made big gas discoveries in Mozambique and Tanzania and will need LNG projects to exploit the resources.
Sanford C. Bernstein & Co. says 90 million metric tons a year of additional projects will need to be approved over the next five years to meet long-term demand in Asia. The capacity vying for that prize is as much as three times higher, Neil Beveridge, Bernstein's Hong Kong-based analyst, said Friday.
"It will be very competitive, and only the lowest-cost projects will be able to move forward," he said by e-mail.
Killer Argument
That's central to what Lund and his peers see as a killer argument.
The industry won't overbuild as LNG plants are too costly without contracts from buyers, Chevron Chief Executive Officer John Watson said last month. Many proposals will end without such guarantees and so supply won't exceed demand, he said.
Some planned projects in Canada's west coast and Latin America are set to fall by the wayside because they won't be able to raise the finances, according to Santander's Kenney.
"BG is an expert at putting low cost LNG into high margin markets," he said. "Shell made a good move for BG."
Before it's here, it's on the Bloomberg Terminal.
LEARN MORE