U.K.'s Cameron Regains Favorite Tag at Betfair; Money Floods In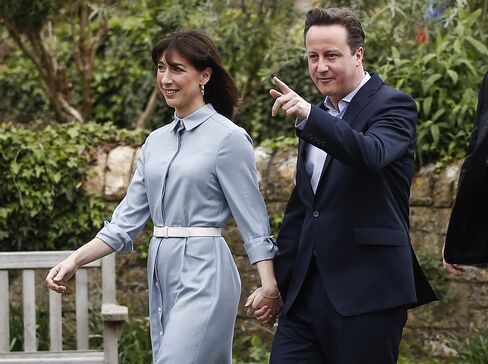 David Cameron regained his favorite tag at betting firm Betfair, as gamblers wagered on him winning a second term in Thursday's U.K. general election
Betfair cut Cameron's odds to 5/6 from evens in London. That means a successful 6 pound ($9.14) bet wins 5 pounds, whereas previously the same bet would have won 6 pounds. Paddy Power Plc, Ireland's largest bookmaker, also cut Cameron's odds after taking a 30,000 pound bet on the Conservative leader.
"It's still a coin toss, and the odds will change all the time," Paddy Power spokesman Feilim Mac An Iomaire said. "But there is some momentum behind Cameron."
Opinion polls indicate neither Cameron nor Miliband will win enough seats Thursday to govern the U.K. without the support of smaller parties. Odds show the most likely next government is a Labour minority, given the Scottish National Party has offered to support Miliband. Yet the Conservatives will win the most seats and votes, odds show.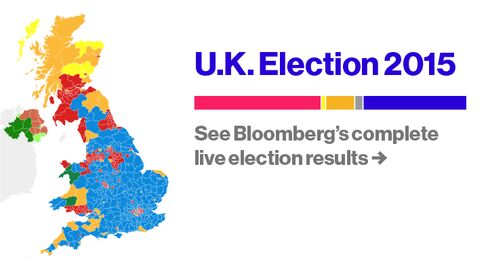 An Ipsos Mori poll published on Thursday found the Conservatives at 36 percent, with Labour at 35 percent. The SNP is on course to win most seats in Scotland, polls indicate. Victory will ultimately go to the leader who secures parliamentary backing for his legislative program, which will be presented in the Queen's Speech due on May 27.
Not all bookmakers agree that a Cameron victory is becoming more likely. Ladbrokes Plc lengthened the odds on Cameron remaining as prime minister to 10/11 from 4/5, even with 75 percent of bets coming in favoring the Conservative leader, according to Matthew Shaddick, head of political odds at Ladbrokes. Miliband is 10/11 at Ladbrokes.
"The vast majority of money coming in is for Cameron," said Shaddick. "But the polls indicate that Miliband is going to be prime minister, probably in a minority government."
Before it's here, it's on the Bloomberg Terminal.
LEARN MORE