These Are the Top 20 U.S. Metro Areas for Flipping a Home
Investors in Baltimore sold their properties for almost double the purchase price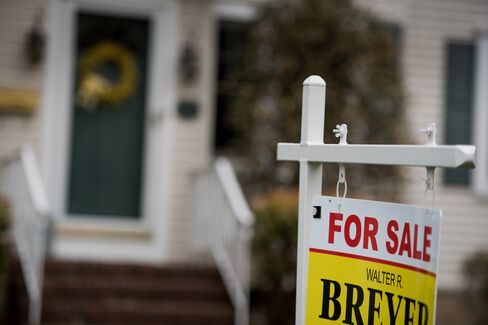 Home flippers turned a quick and tidy profit on their real estate investments in Baltimore, Central Florida, and Detroit last quarter, according to a report released Thursday by RealtyTrac.
Baltimore topped the list among metropolitan statistical areas with at least 50 completed single-family home flips in the first three months of the year. There, flippers reaped a 94.1 percent gain, calculated as average gross profit as a percentage of the average original home-purchase price. The purchase price for these homes, which were sold within 12 months of purchase, averaged $125,313 against a flipped price of $243,255.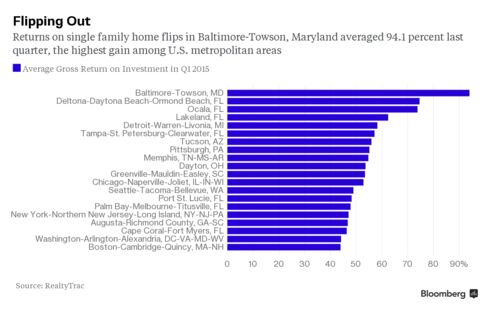 Home flippers in several parts of Florida saw big returns as well, with the Daytona Beach area ranking second, Ocala ranking third and Lakeland ranking fourth. The original average purchase prices in those markets ranged from $51,701 to $81,181, some of the cheapest among the 61 markets surveyed. The Detroit area rounded out the top five, with a 58.3 percent return, and also ranked 11th among markets with the highest share of flipped homes at 6.5 percent of total sales.
The overall average return on U.S. flips completed last quarter was little changed at 35.1 percent.
A "high rate of return is an indication that new life is being breathed into some of these neighborhoods," Daren Blomquist, vice president at RealtyTrac, a data company in Irvine, Calif., said in an interview. "Investors are identifying neighborhoods that they believe are on a path to progress. That's where they see opportunities."
For more on the global economy, check out Benchmark:
Before it's here, it's on the Bloomberg Terminal.
LEARN MORE