Fashion
The New York City Garment District Isn't Dead
Meet the family fighting the odds
The New York City Garment District was once responsible for making 95 percent of U.S. clothing. Now it's just 3 percent. But don't count it out yet.
On the 17th floor of an unremarkable building, just around the corner from Madison Square Garden, sits Johnny's Fashion Studio. The workshop takes up an entire floor and creates clothes for the likes of Alexander Wang and Theory. Right out of the elevator you see countless spindles of brightly colored thread and hear the steady hum of sewing machines punctuated by the sound of scissors cutting cloth and paper.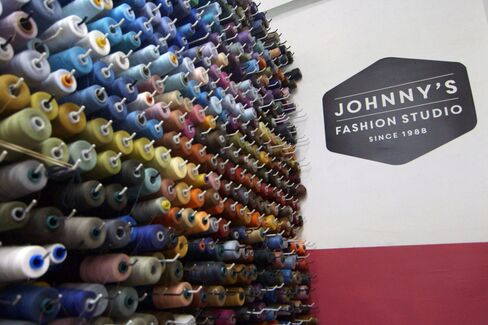 Johnny Kim worked in a Korean sweatshop before coming to New York in the early '80s; he opened his first garment factory in 1988. Unfortunately the local industry was already in decline by then. Since 1990 the city has lost almost 75,000 garment manufacturing jobs. In the late '90s, when Ann Taylor moved production to China, Kim was forced to lay off 200 workers and close his doors temporarily. He kept afloat by opening factories in Florida and California before returning to Manhattan about 10 years ago.
Two years ago, Kim's daughter Joann joined the business, reluctant at first. She never expected or even wanted to follow in her father's footsteps and pursued a career in marketing instead. But with rents rising and no one there to assist her father with modern challenges such as creating a website or providing customer service, she knew she had to step in and help. Now she is Kim's daughter, apartment-mate, and business partner. She has big ambitions of someday turning the one-floor design studio and sewing factory into a small supply-chain empire.
"My big-picture goal is to have a completely vertically integrated company," Joann says. "Maybe I own an entire building in Manhattan where on the ground floor we have a private-label flagship store, a design studio, a development studio. ... I think I can get there, but first I'm taking baby steps."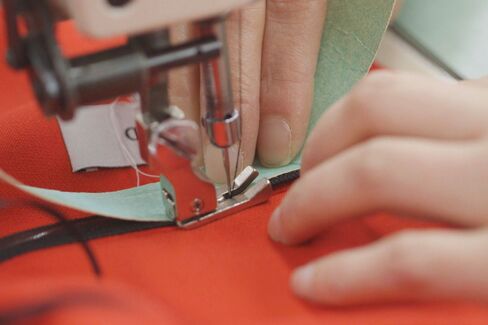 One of the keys to keeping the business moving in this direction has been finding the right balance between big-name clients and emerging designers.
Clothes you see on the runways generally require much more labor-intensive design and pattern work—exactly Kim's wheelhouse. Designers from Kenneth Cole dropped by during one of our visits to work on seam placements for a sample of a hooded coat, for instance. Kim may complete production on those extremely high-end garments, but the orders are so small they don't make him much money. Most of the mass-market production for which he creates samples leaves New York for cheaper, overseas factories once orders are in.
With smaller designers, he can do it all. It's a trade-off with prestige, and orders are still small, but Kim sees an upside in the future by working with emerging brands now.
"Maybe in the next three years those small brands become the big brands, and they stay in the garment district, they stay in New York, and they stay with us," Joann says. "Once they grow, we can grow. If we see one of those brands go from 30 units a season to 3,000 units a season, we'll adapt, we'll add more sewers, we'll move to a bigger space."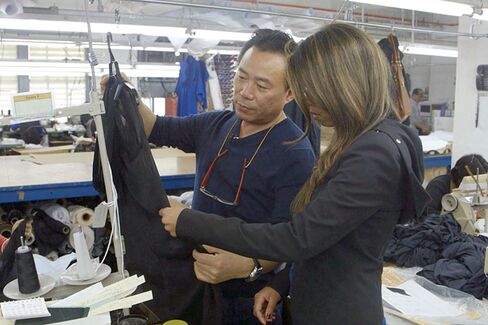 Ironically, even with the rising rents and lack of space placing pressure on Kim's bottom line, leaving the Garment District for less expensive and more profitable and comfortable quarters might make things worse. And jumping across the river to Brooklyn could result in losing loyal customers overnight. On Kim's end, fabric and fittings suppliers are all still located in the Garment District, and logistics become much more difficult when finding the right button or zipper requires a trip into the city. And for American designers, most of whom have major offices and studios in Manhattan, trekking to another borough to get a sample made as they put together collections is not in the cards.
When asked how the Garment District has changed since he first arrived, Kim pauses for a moment. "When I think 10 to 15 years ago, we didn't need too many things. We didn't need good marketing or service, just good sewers and good pattern makers," he says. "Now the market is down, so we need to change the whole system. It's hard to survive, that's why we talk about somewhere out of Manhattan."
At this point, Joann stops him and interjects: "It's all here. We're stuck here."
Before it's here, it's on the Bloomberg Terminal.
LEARN MORE