Putin Stirs Euphoria as Ex-Allies Skip WWII Victory Parade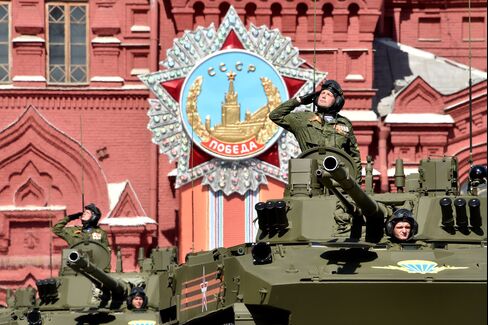 The banners of war have been hung, the streets peppered with patriotic posters. State television is broadcasting hourly updates from the front lines and there's even a free app, so there's no excuse to miss out.
President Vladimir Putin is preparing Russia for a collective military celebration that'll be replete with state-of-the-art weaponry and thousands of goose-stepping troops. The triumphal mood that glorifies the 70th anniversary of victory over Nazi Germany is infused too with public enthusiasm for Russia's annexation of Crimea from Ukraine just over a year ago.
Lifted by the full force of his propaganda machine, Putin is riding a wave of national pride into the annual May 9 parade on Red Square that marks Adolf Hitler's defeat in World War II. The leaders of key allies who spilled blood alongside the Red Army won't celebrate with Putin now. They will stay away to protest his support for the revolt in Ukraine, a land ravaged by both sides of what Russians call the Great Patriotic War, which claimed as many as 27 million Soviet lives.
"This tightening boycott illustrates the depth and breadth of the chasm now separating Russia and the West," said Dmitri Trenin, head of the Carnegie Moscow Center. "For many ordinary Russians, the collective Western no-show is more than a sign of disapproval of their leader's policies. It's a slight against their most cherished national heritage."
China, Cuba
Most of the 68 world leaders invited to attend the 70th anniversary of the end of history's bloodiest war have declined, including U.S. President Barack Obama, U.K. Prime Minister David Cameron and French President Francois Hollande. All three men back the sanctions that severed Russia from the global financial system after Putin annexed Crimea from Ukraine last March, helping tip the economy into a recession.
The 27 heads of state who did agree to join Putin in watching the tanks roll include Xi Jinping of China, which is sending soldiers to participate in the event for the first time. Raul Castro of Cuba and the leaders of India, South Africa, Vietnam and six former Soviet republics are also expected to attend.
The Chinese leader met Putin Friday in the Kremlin, where they oversaw the signing of a number of agreements in areas ranging from regional economic ties to investment and transport projects.
Shared Suffering
Putin said at the start of the meeting that China and the Soviet Union shared the common experience of suffering the heaviest losses in World War II. Xi replied that when this victory is celebrated it's not "for hating some states" but to "establish peace on this planet together."
Xi is keen to exercise China's growing international clout and secure access to natural resources for the largest economy after the U.S. His visit to Moscow is one of a series of planned political and military events designed to show that U.S. and European leaders haven't completely isolated Putin.
"For all the language about a new authoritarian alliance, a new friendship, new levels of strategic partnership, this is still very much a relationship of convenience," said Bobo Lo, author of the book "Russia and the New World Disorder," scheduled to be published in June.
German Chancellor Angela Merkel, who has led EU opposition to Russia's actions in Ukraine, declined to attend the parade, though she did agree to fly in for talks with Putin the following day. Merkel, who helped broker a peace deal between pro-Russian separatists and the Ukrainian government in February, will also join Putin in laying wreaths on the Tomb of the Unknown Soldier outside the Kremlin.
'Hybrid War'
Polish President Bronislaw Komorowski, whose country was invaded by both the Soviet Union and Germany in 1939, was much less cordial, calling the extravaganza nothing but a "show of force" with Russian tank divisions "flexing their muscles."
Poland is hosting its own event that Ukrainian President Petro Poroshenko and the heads of several former Soviet satellites are scheduled to attend. The leaders of Cyprus and the Czech Republic will be both in Poland and Russia.
Russian Foreign Minister Sergei Lavrov accused the U.S. and an "aggressive core" of EU members of trying to embarrass Putin. That's an impossible task inside Russia when it comes to the Great Patriotic War, according to Sergei Markov, a political analyst with ties to the Kremlin.
"This is all part of the hybrid war the West is waging against Russia," Markov said by phone. "This event has enormous meaning for us. Remembering that victory gives us strength to repel the current aggression against us."
Paying Homage
The reverence for the country's most sacred military achievement penetrates all levels of society.
Subway workers in Moscow have been wearing Red Army berets for weeks to pay homage. Central bank officials lit an eternal flame this week to honor workers who died in "the liberation of the motherland from Nazi invaders."
State gas exporter OAO Gazprom donated funds to support 65 eternal flame memorials in cities including Moscow, St. Petersburg, Volgograd and Sevastopol, the company said in an e-mailed statement Friday. Workers restored a total of 1,240 memorials in 65 Russian regions ahead of the holiday.
More than 16,000 troops are scheduled to march in the parade, a 50 percent increase from 2010, and almost 200 pieces of weaponry will be on display, including missiles and the new T-14 Armata tank that features a remotely controlled cannon.
'Great Myth'
Five years ago, on the 65th anniversary, troops from four NATO countries -- the U.S., the U.K., France and Poland -- marched alongside Russians as Komorowski looked on. Presidents Bill Clinton and George W. Bush watched the 1995 and 2005 parades, respectively, from stands next to Lenin's tomb.
Lavrov said Russia is counting on Germany to help keep the conflict in Ukraine from spiraling out of control. A year of fighting has claimed more than 6,000 lives and displaced almost a million people.
For more, read this QuickTake: Russia's Most Popular Man
"We and our German colleagues understand very well what an escalation of this conflict could mean for Europe as a whole," Lavrov said in a statement on Wednesday.
Igor Bunin, the director of the Moscow-based Center for Political Technologies, said he's not so sure.
As tensions with the U.S. and Europe deepen, Putin is cranking up the patriotic drum-beating to a fevered pitch, appealing to a population squeezed by the recession, Bunin said in an interview in Moscow.
"World War II is a great myth for Russians, who haven't got much else to be proud of," Bunin said.
Before it's here, it's on the Bloomberg Terminal.
LEARN MORE