Pay Rise Demands Hitting 30% Puts Iceland Central Bank on Alert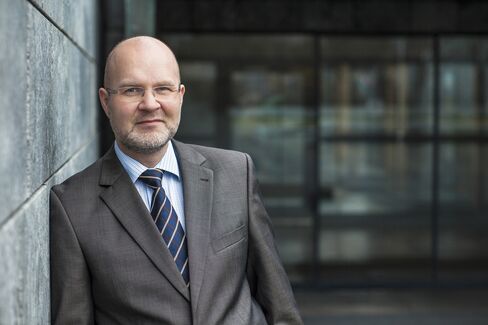 Icelanders took it on the chin when the nation's banking system collapsed in 2008, sending unemployment and inflation soaring. Now, more than six years later, they are demanding payback.
According to the central bank, unions are seeking pay increases of 30 percent as more than 36 labor disputes have gone to the state mediators' office. Strikes are breaking out and the now all-important tourism industry, the main source of foreign currency, could be hit by a full labor conflict on June 6 when a third of the nation's workers could go on strike.
"If there are wage increases to the tone of 30 percent across the board, impacting almost all professions, we'll find ourselves in a pretty serious position," said Thorarinn G. Petursson, the central bank's chief economist, in an interview. Inflation "would surpass the target considerably. But the impact wouldn't be limited to inflation since this kind of pay rise across the labor market would also force us to raise interest rates considerably to preserve price stability."
Workers are seeking a greater share of the pie as the nation's economy restores itself after the 2008 collapse of its three largest banks triggered the worst recession in six decades. Iceland imposed capital controls to protect its currency, which it's still seeking to unwind, and returned to its roots of fishing and tourism to restore its economy.
Lowering Rates
The policies of protectionism and historic writedowns of consumer debt have benefited consumers on the island nation of just 320,000 people. Unemployment has slid below 4 percent, from as high as 9.3 percent post-crisis, and inflation has slowed to below 2 percent from almost 20 percent in 2009.
That has allowed the central bank to lower its rate to 5.25 percent, from as high as 18 percent in the immediate aftermath of the banking collapse.
Yet wages increases have barely kept pace with inflation and with disposable incomes up about 3.8 percent through 2013 since 2008. Icelanders are by far the hardest workers in the Nordic region, putting in 16 percent more hours per week than Danes in 2013, for example, according to the Organization for Economic Development and Cooperation.
No Concern
More than 10,000 members of the SGS union, working in industries such as tourism and construction, started their first 12-hour strike on April 30 and a full-blown conflict could break out on May 26. The Association of Academics began took its 3,000 members off work last month, affecting midwives and veterinarians. Another 62,000 people belonging to six different unions could also walk off their jobs starting on May 28 if strikes are approved in vote ending no later than May 20. The total workforce is 232,000 people.
"We're demanding that the lowest wages of around 200,000 kronur per month are raised to 300,000 kronur per month," said Bjorn Snaebjornsson, chairman of SGS. "We've seen the salaries of doctors and teachers being raised by tens or even hundreds of thousands per month, without any concern of it risking economic stability, so there's hardly reason for concern now when it comes to the people with the lowest wages."
Sedlabanki's Petursson said the conflict risks unraveling the work done to restore the economy, and that at a time when the government is working on a plan to lift capital controls.
"I would have thought that this is something we had learned the hard way," he said. "If these demands are met, we'll find ourselves in the same position again in perhaps three years, as purchase power will then have fallen back to roughly today's level. The labor market will be back to square one, after having gone through some tough adjustments."
Before it's here, it's on the Bloomberg Terminal.
LEARN MORE