No Hydro? No Problem as California Plans to Run Off Solar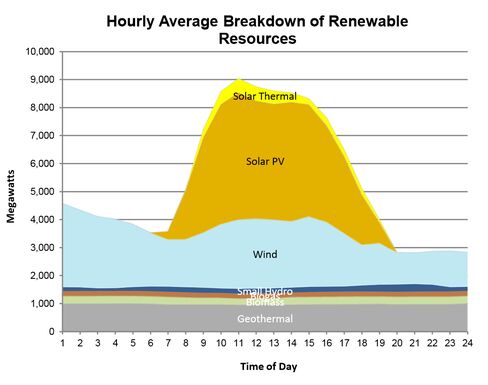 California, facing the fourth year of an unprecedented drought that's drying up hydroelectric supplies, has more than enough solar power to make up the difference, the state's grid operator says.
Demand in the state, which uses more power than Mexico, is expected to reach 47,188 megawatts when rising temperatures in the summer boost air-conditioner use, the California Independent System Operator Corp. said in an assessment on Thursday. While the lowest snowpack in 65 years may shrink hydropower by 2,733 megawatts, the system will have 54,322 megawatts available, largely because of new solar resources.
Renewable power has surged onto California's grid at such a rapid pace that the ISO has said the state's lack of hydro may have a negligible impact on wholesale markets. Spot electricity in Los Angeles averaged $26.74 a megawatt-hour last month, the lowest ever for April, as solar and wind generation surpassed transmission line capacity.
"It is always a challenge to operate the grid under the high loads produced by sweltering summer temperatures, but our analysis shows we have the resources available to meet California's need this year," Steve Berberich, the ISO's chief executive officer, said in an e-mailed statement.
On-peak power at the NP15 hub in Northern California for the peak July-September season was unchanged Friday at $41.75 a megawatt-hour, according to data compiled by Bloomberg. The same contract at the SP15 hub in Southern California was also unchanged at $40 after dropping 25 cents a day earlier.
Renewable generation accounted for 22 percent of California's electric supply on Thursday. Solar alone made up almost 20 percent of total power on the state grid from 9 a.m. until 2 p.m., ISO data show.
Driest Winter
An April 1 snowpack measurement showed statewide water content had dwindled to 5 percent of normal, totaling 1.4 inches (3.6 centimeters). The previous record was 25 percent of average, making this winter the driest in California's written history.
The ISO said in April that it expected statewide hydropower capacity to drop to the lowest level in a decade. The 10-year average for hydro supply is 8,180 megawatts.
Berberich said Thursday that the grid operator will have to keep close watch for demand spikes and wildfires that threaten flows along the state's transmission system.
The 5,400-megawatt Path 15 line between northern and southern California had been operating at about a third of capacity over the past month, ISO and Genscape Inc. data show. The line was expected to return to full service on May 17, according to grid reports.
Before it's here, it's on the Bloomberg Terminal.
LEARN MORE