Morgan Stanley Bankers Happiest With Bonuses While BNP Dismayed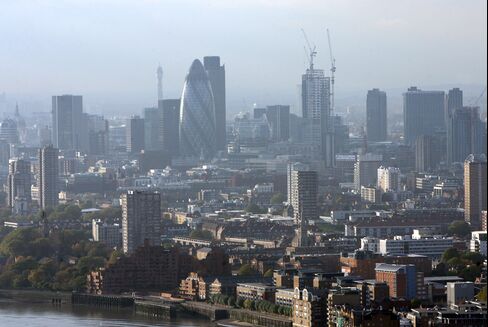 Morgan Stanley's London-based bankers are the most satisfied with their bonuses of any firm in the city, while those at BNP Paribas SA considered themselves the most underpaid, according to Emolument.com.
At the U.S. lender, 47 percent of bankers said they're happy with their bonus compared with just 15 percent at the French firm, the salary benchmarking site said in an e-mailed statement on Thursday, citing salary data from 5,000 employees. More than half of bankers surveyed at BNP, Citigroup Inc., Deutsche Bank AG and HSBC Holdings Plc said they were unhappy.
London's bankers have seen their compensation attacked on several fronts since the financial crisis, with policy makers limiting variable pay to twice fixed salaries, cutting the cash component and extending the period in which bonuses can be clawed back for bad behavior. The City, as London's financial district is known, has also come under fire before the U.K. election on Thursday, with the Labour Party pledging a new tax on bonuses.
"The first tip every junior learns during their first bonus season is to never ever seem remotely satisfied or grateful when bonuses are disclosed," Emolument said. "The safest option is to act upset in order to pressure management to pay more the following year with frequent threats and tantrums."
Barclays, UBS
At Societe Generale SA, the share of dissatisfied bankers was 48 percent, followed by 46 percent at Barclays Plc. Forty-three percent of bankers at UBS Group AG were unhappy, 41 percent at Credit Suisse Group AG and 28 percent at JPMorgan Chase & Co., according to the survey.
Seventy-three percent of bankers said they're dissatisfied or unsure about their latest bonus, with those in junior positions happier than higher-ranking staff, according to Emolument. Forty-two percent of analysts, the lowest investment-banking rank, said they were unhappy with their bonus, compared with 44 percent of directors and 49 percent of managing directors, the survey showed.
The median bonus of a vice-president working in the mergers department in the City rose to 85,000 pounds ($129,000) this year from 50,000 pounds, while a director-level banker saw a 6 percent gain to 127,500 pounds, Emolument said in March. Bonuses for VPs were as high as 98,000 pounds in 2011.
"Lack of pay transparency fosters paranoia and misconceptions," Emolument Chief Executive Officer Thomas Drewry said in the statement. "It is high time the taboo around pay disappeared to allow employees to make informed choices rather than be kept in the dark with the frustration of constant guesswork."
Before it's here, it's on the Bloomberg Terminal.
LEARN MORE