Mayweather Manager Haymon Accused of Driving Out Promoters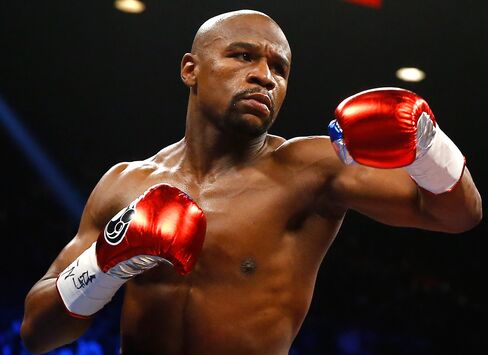 Al Haymon, the manager of Floyd Mayweather Jr., and his financial backers were accused of driving out the competition in professional boxing by Golden Boy Promotions, the company founded by retired champion Oscar De La Hoya.
The complaint comes three days after Mayweather won a 12-round bout against Manny Pacquiao in Las Vegas and as disgruntled viewers have filed at least three lawsuits claiming they were cheated because it wasn't disclosed Pacquiao had torn his rotator cuff before the May 2 bout.
Golden Boy, saying Haymon is known as "the most powerful man in boxing," contends he uses his market dominance as manager of championship-caliber boxers to monopolize the market for promoters. That includes preventing his boxers from freely signing contracts with promoters of their choice, according to the complaint.
"While falsely pretending that he is not a promoter, Haymon has forbidden hundreds of boxers he manages to sign with any other promoter, and he has acted to cut off legitimate promoters not only from promoting boxers he manages, but also from essential network television of boxing matches," according to the complaint filed Tuesday in Los Angeles federal court.
Buying Airtime
Haymon, backed by Waddell & Reed Financial Inc. funds, buys airtime on television networks for matches featuring boxers his company manages, according to Golden Boy. Haymon uses the locked-up air time to lure boxers away from other promoters and is willing to sustain hundreds of millions of dollars in temporary losses to create a monopoly, Golden Boy said.
The promoter seeks as much as $300 million in damages for antitrust violations.
Representatives of Premier Boxing Champions, the Haymon Boxing business that contracts with television networks to show matches, didn't immediately respond to an e-mail seeking comment on the lawsuit. Premier Boxing Champions isn't named as a defendant in the case.
Roger Hoadley, a spokesman for Overland Park, Kansas-based Waddell & Reed, didn't immediately respond to phone and e-mail messages after regular business hours seeking comment on the lawsuit.
The case is Golden Boy Promotions LLC v. Haymon, 15-03378, U.S. District Court, Central District of California (Los Angeles).
Before it's here, it's on the Bloomberg Terminal.
LEARN MORE