Macquarie Rises Most in Four Months on Profit at Seven-Year High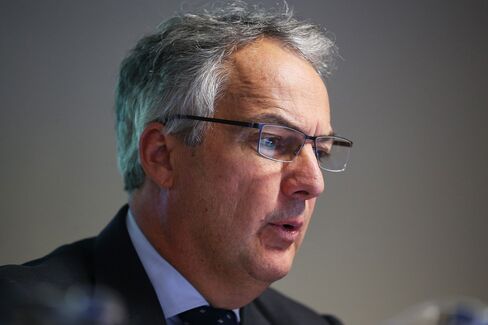 Macquarie Group Ltd.'s shares climbed the most in almost four months after its full-year profit climbed to a seven-year high, driven by funds management, its advisory business and a lower tax rate.
Shares of Australia's largest investment bank rose 5.2 percent, the most since Jan. 19, to A$80.54 at 11:30 a.m. on Friday in Sydney. Net income climbed 27 percent to A$1.6 billion ($1.3 billion) for the year ended March 31 with 2016 earnings expected to be higher, the firm said in a statement. Second-half earnings climbed 21 percent to A$926 million.
Macquarie's highest profit since 2008 is the product of Chief Executive Officer Nicholas Moore's focus on steady income-generating business to smoothen the earnings volatility from its advisory and trading units. The firm is the world's largest infrastructure fund manager and is expanding its leasing business that includes cars to planes.
"The profit is a big one, driven by strong operating earnings from its main businesses and a lower tax rate," said Brett Le Mesurier, a Sydney-based analyst at BBY Ltd. "Today's earnings are an indication of what Macquarie's profits can do in 2016. I see it hitting A$1.8 billion."
Macquarie is expected to report a net profit of A$1.71 billion next year, according to the mean estimate of 10 analysts surveyed by Bloomberg before Friday's announcement.
Lower Tax Rate
Macquarie's tax rate dropped to 35.9 percent in the year from 39.5 percent as it got 70 percent of its revenue from overseas, from 68 percent last year, it said.
The firm said it will pay a final dividend of A$2 per share compared with expectations for A$1.70. The non-cyclical, or "annuity-style" businesses, posted a 33 percent increase in annual profit, while the bank's capital markets facing unit saw a 19 percent increase.
Profits at its funds business, which boosted funds under management 14 percent to A$484 billion, climbed 38 percent. Its corporate lending and leasing unit saw a 35 percent increase and its commodities and currencies business posted a 15 percent increase. The advisory and underwriting unit saw a 54 percent rise. Profits at its equity-trading business fell to A$64 million from A$107 million a year earlier.
Fees and commission income climbed 24 percent, while loan-impairment expenses almost doubled amid higher volumes. Employment expenses expanded 11 percent as improved results led to higher compensation.
Stronger Outlook
The bank expects earnings at its asset management, corporate lending and leasing, and commodities and currencies businesses for the year to March 31, 2016 to be broadly in line with 2015, it said in an investor presentation. Macquarie sees its advisory and underwriting unit, equity trading, and banking businesses posting higher earnings, it said.
"Today's result reflects the return on many years of investment across the business, enabling the group to further capitalize on improved trading conditions," CEO Moore, whose total remuneration for the year rose to A$16.5 million from A$13.1 million, said in the statement.
Return on equity, a measure of how effectively the firm reinvests earnings, was 14 percent, a seven-year high, from 11.1 percent. The bank held A$2.7 billion in surplus capital.
Macquarie shares have climbed 38 percent this year. The stock is the fourth-most favored on the S&P/ASX 50 Index among analysts, data compiled by Bloomberg show.
Before it's here, it's on the Bloomberg Terminal.
LEARN MORE