Kaisa's Kwok Said to Be Considering Giving Better Debt Deal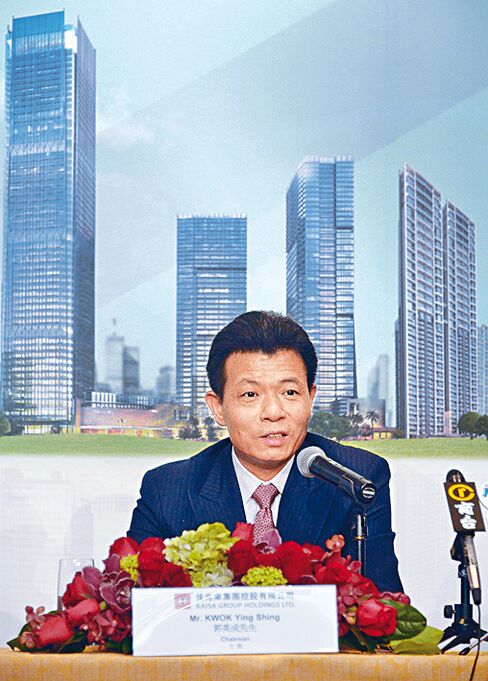 Dollar-denominated debentures due 2018 and 2019 increase

Investors still waiting for Kaisa to release its 2014 results
Kaisa Group Holdings Ltd. Chairman Kwok Ying Shing told an offshore bondholder steering committee at a meeting in Hong Kong Tuesday that he may offer them a better debt restructuring proposal, according to people familiar with the matter.
Kwok said he is considering a few alternatives regarding what to do with the company, but couldn't reveal them until after July 31, the expiration date for Sunac China Holdings Ltd.'s proposal to acquire the developer, said the people, who asked not to identified because they're not authorized to speak publicly.
Kaisa, based in the southern Chinese city of Shenzhen, is seeking to restructure $10.5 billion of debt amid a takeover bid that could be valued at as much as $1.2 billion by rival Sunac. Kwok resigned on Dec. 31 citing health reasons and agreed to sell his family's controlling stake to Sunac in January, only to return to the helm on April 13. Seven days later the company defaulted on two of its dollar bonds.
"It looks like Kaisa and Sunac are competing for the company and for better terms for the bondholders based on recent media reports," said Zhi Wei Feng, a senior credit analyst at Standard Chartered Plc in Singapore. "But there is so much speculation around the situation which has caused lots of volatility in Kaisa bonds. By the end of the day, we still don't have any clarity on what's going to eventually pan out."
Moody's View
Moody's Investors Service, which had been reviewing for upgrade Kaisa's Ca debt rating, said it had changed the outlook to positive. The move "reflects our expectation that the proposed acquisition by Sunac could take more time and effort than initially expected, given the stalemate in Kaisa's debt restructuring," Franco Leung, a senior analyst at the rating company, said in a statement today.
Kaisa's $800 million of 8.875 percent notes due 2018 rose 2.166 cents to 60.416 cents on the dollar as of 3:45 p.m. in Hong Kong, the highest since April 17, according to prices compiled by Bloomberg. Its 9 percent $400 million notes due 2019 advanced 2.194 cents, the most in a week, to 60.444 cents.
Frank Chan, an investor relations official at Kaisa, said he wasn't able to comment.
Acquisition Rules
Sunac has sought permission from Hong Kong's stock exchange to proceed with its acquisition of a stake in Kaisa even though Kaisa hasn't published audited results for 2014, people with knowledge of the matter said on April 30.
Kaisa's offshore bondholders are waiting to see whether the bourse grants the waiver before presenting a counter-proposal to the developer's debt restructuring plan, said one of the people on April 30, who asked not to be identified discussing confidential information. In March, the steering committee didn't agree to the company's proposed debt restructuring, under which interest payments will be cut and maturities delayed.
Hong Kong listing rules bar companies traded there from making "major" acquisitions where there aren't audited results or accountants' reports available on the target. Buyers can apply for a waiver if they don't plan to make the acquired company a subsidiary, the rules state. Both Sunac and Kaisa are listed in Hong Kong.
A Feb. 6 stock exchange statement announcing the stake purchase referred to it as a "major" transaction.
Kaisa shares have been suspended from trading since March 31.
Rising Debt
Kaisa's debt more than doubled to 65 billion yuan ($10.5 billion) at the end of 2014 from six months earlier. In a March 8 statement, Kaisa gave as the first reason for the jump in debt requests from independent third parties for a "refund of their deposits with interest." It said trust financing and other borrowings also contributed.
Analysts at Lucror Analytics Pte, Mitsubishi UFJ Securities HK Ltd. and BDO Ltd. Have said the payments have characteristics of interest-bearing debt, and booking them under current liabilities, the way Kaisa did, may have made metrics that investors use to assess a company's riskiness appear stronger than they actually were.
For Kaisa, it's "not necessarily a good thing" if Kwok indeed takes back control of the company, said Jeffrey Gao, a property analyst at Nomura Holdings Inc. "If all the market talk is true and the company indeed has accounting problems, would it be good or bad to get the guy with accounting issues back?" he said.
— With assistance by Lianting Tu, and Dingmin Zhang
Before it's here, it's on the Bloomberg Terminal.
LEARN MORE