Hedge Fund's Forecast for Record Deals May Come True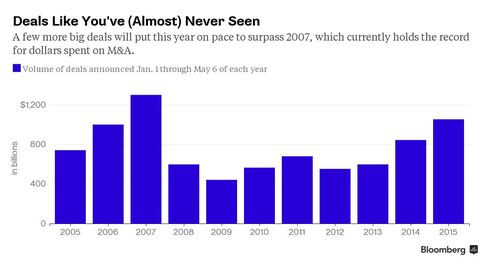 It's not even five months into the year, and it's already looking like a record-breaker for mergers and acquisitions.
With $1.05 trillion of M&A announced so far, 2015 is just one or two mega-deals shy of overtaking 2007's record pace, according to data compiled by Bloomberg. Deal volume that year reached $3.4 trillion.
This year's activity has been punctuated by $20 billion-plus deals in energy, drugs and consumer staples. These are all these areas where analysts and investors expect more large transactions to occur. On Wednesday, York Capital Management's Michael Weinberger became the latest hedge-fund manager to forecast a record year for mergers and acquisitions.
"It's a very exciting time," Weinberger, who helps manage $26.2 billion, said Wednesday at the SkyBridge Alternatives Conference. The investing conference, held in Las Vegas, also features such speakers as former Federal Reserve Chairman Ben S. Bernanke and billionaire hedge-fund manager John Paulson.
While 2014 heralded the age of the mega-merger, 2007 is remembered for its massive leveraged buyouts that symbolized the irrational exuberance of the time. Power producer TXU Corp., which is now in bankruptcy, was taken private that year for $45 billion.
A financial crisis then dragged the U.S. into a recession that sent ripples throughout the world, and dealmaking fell into several-year lull. It has now returned with a bang.
Investors are "sitting in the desert and are thirsty" for corporate boards to take action, Weinberger said.
Larger Transactions
The larger amount of money being spent per transaction is boosting volume even as the number of transactions remains below pre-crisis levels. There were 27,782 acquisitions struck in 2007, while this year is headed for about 22,000.
Another roughly $120 billion worth of deals -- or perhaps a single one that size -- is needed to put 2015 on track for a record in terms of volume. While that's a large figure, it's conceivable: Pfizer Inc. is expected to still be on the hunt for a substitute mega-merger after AstraZeneca Plc spurned its $120 billion offer last year. Should Salesforce.com Inc. find a buyer as its advisers field offers, that'd be another $50 billion-plus acquisition.
Before it's here, it's on the Bloomberg Terminal.
LEARN MORE