ECB's Mersch Says Greek IOUs Would Have High Cost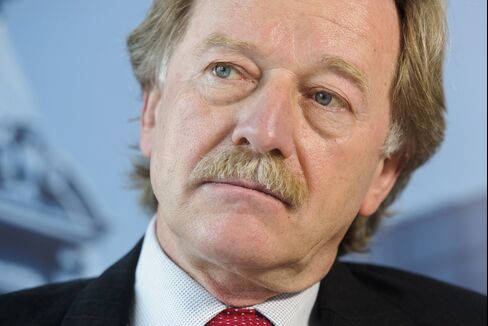 Greece would face significant costs if it introduced a parallel currency or capital controls to manage its financial crisis, European Central Bank Executive Board member Yves Mersch said.
"All these measures are among the exceptional tools that any government can consider if it has no other options," Mersch said in an interview with Spanish newspaper La Vanguardia that was published on Thursday, in response to a question about the viability of IOUs or a parallel currency. "But all of them have a high cost."
As Greece's euro-area creditors become increasingly frustrated with the progress of negotiations over a bailout package that would unlock fresh funds for the cash-strapped nation, officials are attempting to defuse the threat of a payments crisis. Mersch's comments echo those of ECB Vice President Vitor Constancio, who said in April that a Greek default wouldn't necessarily mean they'd have to leave the euro.
"There have been defaults in the U.S. and other monetary unions without political consequences," said Mersch, who is the ECB's board member responsible for legal affairs. "The treaty says there is free movement of capital but exceptional measures can be authorized."
Mersch said recent changes in Greece's negotiating team could enable progress. Euro-area finance ministers are due to discuss details of the reforms Greece must enact in return for cash on May 11, a day before a 767 million-euro ($870 million) payment to the International Monetary Fund comes due.
"Rarely have I seen Europe so united, except for one country, on the need to follow the rules," Mersch said. "Those countries wouldn't like everything achieved in the past, the effort made, frustrated now that it is starting to bear fruit."
(Newspaper corrects transcript to remove erroneous Mersch quote in second paragraph.)
Before it's here, it's on the Bloomberg Terminal.
LEARN MORE