Dormant Inflation Seen Looming as U.S. Stock Valuation Influence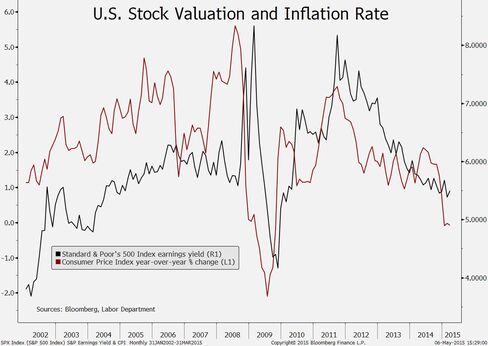 Inflation may be the biggest influence on whether U.S. stocks sustain their current valuation, according to Talley Leger, the founder of Macro Vision Research LLC.
As the attached chart depicts, the earnings yield on the Standard & Poor's 500 Index tends to track 12-month percentage changes in the consumer price index, as compiled monthly by the Labor Department. The yield represents the inverse of the S&P 500's price-earnings ratio.
The earnings yield dropped to 5.5 percent yesterday from 8.2 percent at the end of September 2011, according to data compiled by Bloomberg. The earlier figure followed the S&P 500's most recent drop of more than 10 percent. During the period, the index's P/E ratio rose to 18.2 from 12.2.
"The trend decline in headline inflation" does much to explain the lower yield and higher P/E, Leger wrote in a May 2 report with a similar chart. Consumer prices in the first three months of this year were little changed from year-ago readings. The rate peaked at 3.9 percent in September 2011.
Inflation has been dormant because a stronger dollar has made imported goods cheaper, the Jersey City, New Jersey-based strategist wrote. Import prices fell 10.5 percent in March from a year ago, according to the Labor Department. The drop was the steepest since 2009.
Although the dollar has dropped in the past eight weeks, U.S. stocks are worth owning as long as the currency's outlook is favorable, Leger wrote. Pullbacks like the dollar's current slump are buying opportunities, he added.
Before it's here, it's on the Bloomberg Terminal.
LEARN MORE