Distressed Oil Bondholders Reap Windfall as Alfa Proves Savior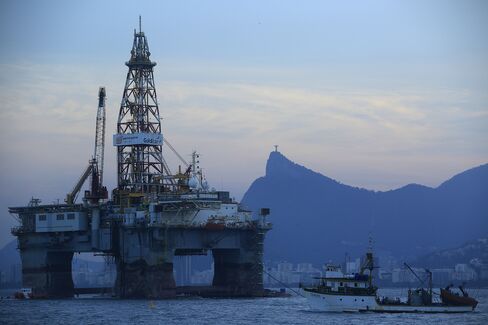 With Pacific Rubiales Energy Corp. reeling from oil's collapse and the loss of its biggest field, the company's prospects could hardly have been worse.
Investor pessimism ran so deep that the Colombian oil producer's $1.3 billion of bonds due 2019 plunged 35 percent between November and January, leaving the notes languishing at distressed levels. That all changed Tuesday, when the company said it received a takeover offer from its largest shareholder, Alfa SAB, and Harbour Energy Ltd., fueling a record 14 percent surge.
Those gains are just the beginning, said SW Asset Management and MainFirst Schweiz AG. That's because the bonds of Pacific Rubiales -- which said Wednesday it favors the acquisition -- are likely to climb further to reflect more closely the much higher creditworthiness of Mexican conglomerate Alfa. At BBB, the company's rating is three levels higher than Pacific Rubiales's.
"You're getting bought by your rich uncle," Ray Zucaro, who oversees $377 million of assets at SW Asset, said in a telephone interview from Newport Beach, California. He predicts the premium that investors demand to buy Pacific Rubiales's bonds due 2023 over comparable Alfa's notes will eventually fall to as low as a half-percentage point from 3.4 percentage points now.
'Reasonable' Offer
A day after Bogota-based Pacific Rubiales said the company was entering into exclusive talks, General Counsel Peter Volk said the oil producer wants to complete negotiations as soon as possible and views the C$6.50-a-share offer as "reasonable."
The Toronto-listed shares added 1.5 percent Thursday to C$6.26 as of 3:09 p.m. in New York.
"We're working on turning it into something binding," Volk said from Toronto. "We're anxious to do this for many reasons as expeditiously as possible. It's in the interest of all three parties."
Alfa and private-equity firm Harbour are offering to buy the company for about C$2.1 billion ($1.7 billion). Alfa, which sells products as varied as bacon strips, plastic bottles and car-engine parts, has boosted its ownership of Pacific Rubiales to 19 percent from about 10 percent when the company disclosed the stake a year ago, data compiled by Bloomberg show.
Acquiring Pacific Rubiales would expand Alfa's oil expertise, giving the Mexican manufacturer an advantage as its home nation opens fields to private drillers for the first time since 1938.
Oil Field
For Pacific Rubiales, the takeover is a godsend. In March, Latin America's largest non-state producer said its contract to operate Colombia's largest oil field won't be extended beyond June 2016 and that it suffered a record quarterly loss. The company, which has more than tripled its debt since 2012 to about $4.7 billion, has leverage ratios that are more than double the average of global peers at 5.5 times, data compiled by Bloomberg show.
"The company was damaged by the oil crisis and the leverage grew," Damien Buchet, who oversees 2.4 billion euros ($2.7 billion) as head of emerging-markets fixed income at AXA Investment Managers, said from Paris. "This could be a total game-changer."
Cornel Bruhin, a money manager at MainFirst Schweiz AG, said he bought Pacific Rubiales's 2023 bonds in January, when prices averaged 64 cents on the dollar.
After prices soared 19 percent since Tuesday, the notes now yield 5.43 percentage points more than Treasuries, meaning they're no longer distressed. That compares with a premium of 12.83 percentage points as recently as March 17.
"For Pacific Rubiales bondholders, it's a great move," he said from Zurich.
Before it's here, it's on the Bloomberg Terminal.
LEARN MORE