Continental AG Boosts Revenue Forecast Again on Currencies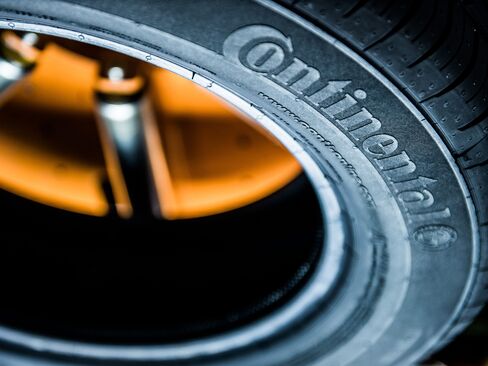 Continental AG, Europe's second-biggest maker of car parts and tires, boosted its 2015 sales forecast a third time this year and said profitability will "comfortably" reach its target as the euro declines and oil prices stay low.
Sales will exceed 39 billion euros ($44 billion) this year, the Hanover, Germany-based company said Thursday in a statement. That would be more than 13 percent higher than the 2014 figure of 34.5 billion euros. Continental raised the 2015 revenue forecast a week ago to about 38.5 billion euros following an earlier boost in March.
The company's European carmaking customers, including Volkswagen AG and BMW AG, have been beating first-quarter sales and earnings estimates as the region's auto market revives and U.S. drivers buy higher-priced sport utility vehicles. The euro has fallen by about 6 percent against the dollar this year, which raises the value of revenue generated outside Europe.
"Unless their business with car manufacturers declines for some reason, this is going to be a good year for Continental," Hans-Peter Wodniok, an analyst at Fairesearch GmbH & Co. KG, said by phone from the Frankfurt suburb of Kronberg.
Continental rose as much as 2.3 percent and was trading up 1.8 percent at 210.45 euros as of 9:52 a.m. in Frankfurt. The stock has gained 20 percent this year, valuing the manufacturer at 42 billion euros.
Supply Prices
Stable prices for rubber and lower prices for oil, a raw material to make synthetic rubber, will help 2015 profit by about 150 million euros, the company said Thursday. Oil reached a six-year low in March, though has started to recover.
Earnings before interest and taxes and adjusted for special effects will "comfortably" exceed 10.5 percent of revenue, Chief Executive Officer Elmar Degenhart said in the statement.
"The first quarter showed that we are growing faster than the markets," the CEO said. "Positive effects of foreign exchange are adding to this. We expect this positive development to continue."
The manufacturer bought U.S. hose and conveyor-belt maker Veyance Technologies Inc. in a 1.4 billion-euro deal in January to expand its industrial division in an effort to reduce dependence on the volatile carmaking industry, and it's planning further purchases.
First-quarter adjusted Ebit increased 10 percent from a year earlier to 1.05 billion euros, Continental said. That matched the figure the company outlined in a preliminary statement on April 30, when it boosted the 2015 sales forecast. The margin held steady at 11.4 percent of revenue.
Before it's here, it's on the Bloomberg Terminal.
LEARN MORE