Cheap Dollar Maintains Appeal of U.S. Assets for Beef King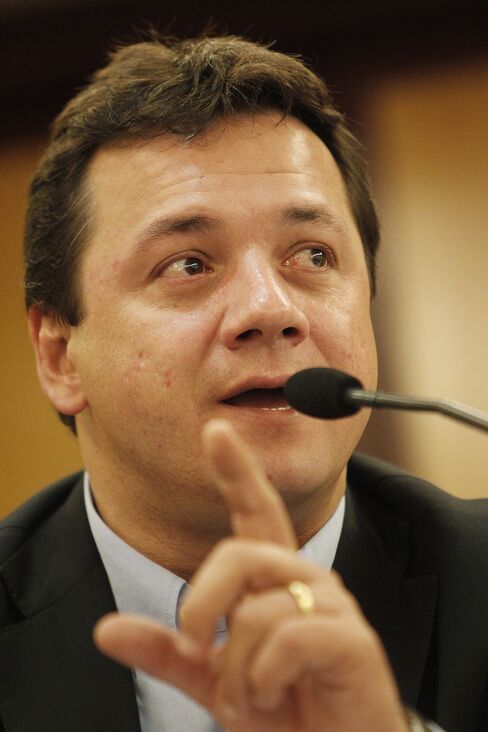 JBS SA, which became the biggest meat company in the world by spending $5 billion to buy U.S. companies, says U.S. assets remain attractive with the dollar's rally against emerging-market currencies just getting started.
The dollar will strengthen as prices adjust for everything from labor to commodities to restore the competitiveness of emerging economies including Brazil after a decade of rising wages and other costs, according to Wesley Batista, JBS's chief executive officer, whose family controls the company.
"Several years of inflation and real wage gains made Brazil much less competitive compared to the U.S.," Batista, whose company gets most of its revenues from U.S. operations, said Tuesday in an interview at JBS headquarters in Sao Paulo. "The U.S. can now produce chicken at the same cost we produce in Brazil, which was unimaginable some years ago."
Brazil's real lost 27 percent against the dollar in the past year, the most among major currencies tracked by Bloomberg. The drop came as President Dilma Rousseff grapples with slumping commodity prices, a corruption scandal surrounding Petroleo Brasileiro SA and its suppliers, and tight credit. With U.S. interest rates set to start rising, "this adjustment of relative prices" is still in the beginning, Batista said.
JBS took advantage of the weak dollar to expand through acquisitions that included Swift & Co. and Pilgrim's Pride Corp. in 2007 and 2009, respectively. Now Batista believes "there is still value to be created" in the U.S.
'Still Value'
"Except for some specific sectors or companies, the U.S. is still not expensive," he said.
JBS last year made a $6.7 billion offer for Jimmy Dean sausage maker Hillshire Brands Co. in a bidding war won by rival Tyson Foods Inc. The Brazilian meatpacker has been seeking to diversify into more value-added segments such as packaged and branded food products. For now the company is prioritizing debt reduction and improving profit, he said.
Cash generation rose more than seven times to a record 4.7 billion reais ($1.5 billion) last year while net debt fell to 2.1 times earnings before interest, taxes, depreciation and amortization from 3.7 a year ago and 4.3 in the second quarter of 2012, according to data reported by the company.
In Argentina, where JBS closed four out of its five plants amid capital and currency controls, Batista said he sees opportunities to grow again if October's presidential election heralds a change of policies.
JBS shares have risen 38 percent this year in Sao Paulo compared with a 14 percent gain in Brazil's benchmark equity index. Tyson shares are little changed in the same span.
"Now we are building muscle," Batista said. "Great opportunities will never end. We were a beef company some years ago, then we became the largest protein company and we see ourselves in the middle, long term, as a global food company."
Before it's here, it's on the Bloomberg Terminal.
LEARN MORE