Brazil Bond Stigma Stays in Brazil as Overseas Units Boost Sales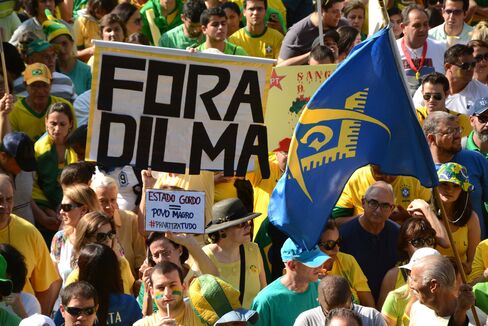 For Brazilian companies, the nation's economic turmoil and headline-dominating bribery investigation have become a liability.
In the international bond market, just one company has issued debt since November. And that sale was this week, which broke the longest drought since 2008. But that doesn't mean companies have sat around waiting for a drop in borrowing costs, which are still well above levels seen before a graft probe at Petroleo Brasileiro SA began roiling markets six months ago.
After abandoning overseas bond sales in November, JBS SA and Marfrig Global Foods SA have turned to their foreign units to obtain cheaper financing abroad. Just last month, Moy Park, Marfrig's poultry unit in the U.K., raised 100 million pounds ($152.6 million) selling six-year notes. That followed a $500 million bond offering in March by Pilgrim's Pride Corp., the Greeley, Colorado-based chicken producer owned by JBS.
"It's a smart strategy for the issuers," Ian McCall, a money manager at Geneva-based Quesnell Capital SA, said by e-mail. "We can certainly expect to see other Brazilian corporates' overseas entities raise debt while the risk premium for Brazil remains elevated."
Marfrig Yields
Moy Park's 2021 notes yield 6.86 percent, or 5.09 percentage points more than U.K. government benchmarks. While Sao Paulo-based parent Marfrig doesn't have bonds denominated in pounds, its $775 million of debt due 2020 yields more than 8 percentage points above U.S. Treasuries. Moy Park and Marfrig share the same B+ junk rating from Standard & Poor's.
Marfrig Chief Financial Officer Ricardo Florence dos Santos declined to comment on the bond sale strategy, citing a required quiet period before the publication of first-quarter results. CEO Martin Secco Arias has confirmed plans to push ahead with an initial public offering for Moy Park as early as September. Market conditions in the U.K. are more favorable for the IPO, Arias told reporters in Sao Paulo on Friday.
Pilgrim's Pride's bonds due 2025 yield 5.54 percent, 1.16 percentage points less than JBS's benchmark debt maturing in April 2024, data compiled by Bloomberg show. The companies are both rated BB by S&P.
Jeremiah O'Callaghan, JBS's investor-relations director, declined to comment on the bond sale.
Johnny Da Silva, an analyst at Fitch Ratings, said both the Moy Park and Pilgrim's Pride offerings were likely marketed to U.S. and European investors, including many who aren't allowed to buy debt from a Brazilian company.
'Higher Coupon'
"Most investors in these regions are searching for yields in their local markets and have either pulled out their investments directly in Brazil or are demanding an even higher coupon because of political, economic reasons and exchange-rate volatility, which have frozen the market for high-yield names," he said by telephone from New York. "So issuing via their overseas unit makes absolute sense."
Latin America's biggest economy will shrink 1.18 percent this year, which would be the biggest contraction since at least 1992, according to analysts surveyed by the central bank.
The real gained 1.5 percent Friday to 2.9799 per dollar as of 3:15 p.m. in New York, leaving it down 11 percent this year, the most in emerging markets after the Turkish lira. The woes have prompted Brazilians to take to the streets repeatedly to protest President Dilma Rousseff's policies.
Borrowing Costs
While borrowing costs for Brazilian companies have dropped from a six-year high in March as Petrobras takes steps to move past the kickback scandal, they're still 0.78 percentage point higher than they were at the end of October, according to JPMorgan Chase & Co. At 6.88 percent, the yield is also above the emerging-market average of 5.28 percent.
"Petrobras's situation was harsh, and there doesn't seem to be investor appetite for these companies," Carlos Gribel, the head of fixed income at Andbanc Brokerage LLC in Miami, said by e-mail. "These overseas branches gave these companies access to international markets under very special conditions."
For more, read this QuickTake: Brazil's Highs and Lows
Before it's here, it's on the Bloomberg Terminal.
LEARN MORE