Brady Faces NFL Discipline for Knowing of Deflated Footballs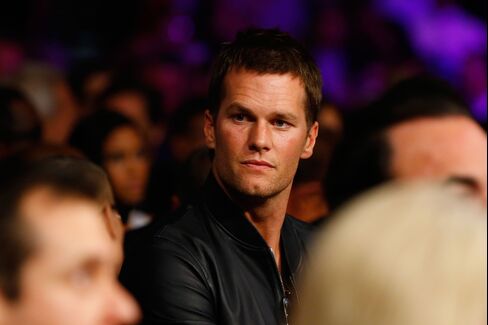 Tom Brady may be suspended for the start of the National Football League season after an investigation concluded the New England Patriots quarterback probably knew that game balls had been deliberately deflated.
A report commissioned by the NFL found that two-time Most Valuable Player Brady probably was aware that two members of the team's staff likely participated in a deliberate plan to circumvent league rules. Patriots coach Bill Belichick and owner Robert Kraft were unaware that footballs supplied and used by the Patriots in the team's conference championship game were improperly deflated, the investigation concluded.
While the report doesn't say Brady specifically directed the balls to be deflated, he and the Patriots could face fines or an NFL suspension as a result of the controversy, which overshadowed the two-week run-up to February's Super Bowl. NFL Commissioner Roger Goodell said on Wednesday that Vice President of Football Operations Troy Vincent will determine discipline in the case and what changes in protocols may be needed to avoid similar incidents in the future.
"You have to suspend him or make him a part of this to let other quarterbacks and other teams know that, if this goes back to your star quarterback, he's also going to be punished," said former NFL safety Ryan Clark, who's now an analyst for ESPN. "The NFL is quick to issue harsh rulings on things off the field, now they have to step it up on the field and let everyone know that cheating won't be allowed."
There's no timetable for the league's decision.
Deflation Investigation
A three-month investigation led by New York attorney Ted Wells concluded it was more probable than not that Jim McNally, an officials' locker room attendant, and John Jastremski, an equipment assistant, released air from Patriots' game balls after the examination of the footballs by NFL officials at the American Football Conference title game on Jan. 18.
Brady, 37, was at least generally aware of the inappropriate activities of McNally and Jastremski, according to the 139-page report, which based its findings on scientific tests, interviews with 65 witnesses, and e-mails, phone calls and text messages. Brady's agent, Don Yee, said the Wells report is a significant and terrible disappointment.
"Its omission of key facts and lines of inquiry suggest the investigators reached a conclusion first, and then determined so-called facts later," Yee said in a statement.
Brady's Denials
A two-time NFL Most Valuable Player who is married to supermodel Gisele Bundchen, Brady said in January that he had no explanation for the underinflated footballs, maintaining that he didn't alter the game balls and didn't think anyone else had. Brady in February won the fourth Super Bowl of his 15-year NFL career -- tying a record for starting quarterbacks -- by throwing four touchdown passes in a 28-24 win over the Seattle Seahawks and being selected the game's MVP.
Jeff Saturday, a former All-Pro center, said he's more disappointed in Brady's response than the actions themselves.
"It feels like he's covered it up and passed the buck," Saturday, now an ESPN analyst, said on the network. "It's disappointing because he's a Hall of Fame quarterback and an icon and role model for the game. It allows people to attack his character and his integrity. And for deflating a ball? That's not where you want to draw a line in the sand."
Kraft, the Patriots' owner, said the team is disappointed in the findings, which he added don't include any "incontrovertible or hard evidence of deliberate deflation of footballs" at the AFC title game. As one of 32 teams in the league, however, Kraft said the Patriots will accept the findings of the report and any discipline handed down.
Potential Penalties
The Patriots and Kraft could be held accountable even though the investigation determined they weren't aware of the actions taken by staffers. In March, Atlanta Falcons President Rich McKay was suspended from the league's competition committee for at least three months even though an NFL investigation found he didn't know the team was improperly using recorded crowd noise at home games during the 2013 season.
The NFL's game operations manual says if a game ball is altered after it has been approved by the referee, the person responsible "and, if appropriate, the head coach or other club personnel will be subject to discipline, including but not limited to, a fine of $25,000."
Investigation
The investigation sought to determine whether the Patriots not only may have gained a competitive advantage, but whether they compromised the integrity of the most popular U.S. sport. The probe began after several footballs supplied by the Patriots were found to be below the league's 12.5 to 13.5 pounds per-square-inch requirement. Balls inflated less may be easier for a quarterback to throw and receivers to catch, particularly in wet or cold conditions.
Investigators waited until after the Super Bowl to meet with Brady and other players from the Patriots, who beat the Indianapolis Colts 45-7 in the AFC Championship game.
Brady refused to provide his e-mails, text messages and phone records, investigators said. He initially laughed off the allegations the day after the AFC championship game, when a report about underinflated footballs first emerged, then said three days later that it was a "very serious topic" because it affected the integrity of the sport.
Brady's agent said the quarterback made himself available to investigators for a full day and answered every question.
Report Omissions
"It was clear to me the investigators had limited understanding of professional football," Yee said. "For reasons unknown, the Wells report omitted nearly all of Tom's testimony, most of which was critical because it would have provided this report with the context that it lacks."
The Wells report said the investigation found evidence McNally referred to himself as the "deflator" and was involved in a series of communications about his impact on the inflation-level of the Patriots' game balls even though his responsibilities as a locker room attendant didn't involve the preparation, inflation or deflation of footballs.
The report concluded that McNally, 48, violated league rules by removing the game balls from the officials' locker room without permission of the referees, brought the footballs into a bathroom before the game -- for a period long enough to deflate them -- and received "valuable items" autographed by Brady the week before the AFC Championship Game.
Brady Contact
Text messages and phone calls between Brady and Jastremski, 35, increased in frequency shortly after suspicions of ball tampering became public on Jan. 19, providing additional evidence of Brady's awareness of the incident, the report said. They hadn't been in contact by phone or text for more than six months before that, according to data retrieved from Jastremski's cell phone.
Brady on Jan. 19 invited Jastremski to the quarterback room in Gillette Stadium for the first and only time that Jastremski can recall during his 20-year career with the Patriots, the report said. Brady also sent Jastremski text messages the report said were seemingly designed to calm the equipment assistant, including one that read "You good Jonny boy?" Jastremski, who first joined the Patriots as a ball boy in 1994, responded to Brady with a text message that read: "Still nervous; so far so good though."
Each NFL team supplies 12 balls to the referee two hours and 15 minutes before each game. Those balls can be rubbed down and prepared by equipment managers to a starting quarterback's specifications, but can't be altered once approved by the referee and given to the ball attendants for each team.
"There's no reason that John Jastremski or Jim McNally would ever touch a football and take air out of it if it was not the request of the starting quarterback," said Tim Hasselbeck, a former Patriots' ball boy who spent four seasons as an NFL quarterback. "Plain and simple, period."
The Wells' report agreed.
"It is unlikely that an equipment assistant and a locker room attendant would deflate game balls without Brady's knowledge and approval," it read. "Based on our interviews and assessment of McNally and Jastremski, we also do not believe that they would personally and unilaterally engage in such conduct in the absence of Brady's awareness and consent."
The question is what action the NFL will take against Brady or the Patriots in an unprecedented case.
"However you want to look at it -- whether you consider it a big cheat or little cheat -- it's cheating, plain and simple," Hasselbeck said.
Before it's here, it's on the Bloomberg Terminal.
LEARN MORE