Bond Bears Risk Self-Destruction by Betting on Draghi's Success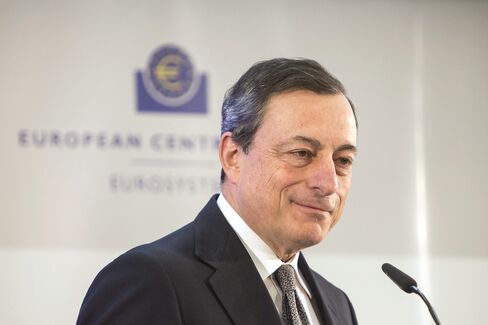 Too much success for Mario Draghi risks ending up in defeat for investors.
The euro-area's currency is climbing with bond yields, while equities are sliding, as financial markets bet the monthly bond-buying of President Draghi's European Central Bank will successfully revive inflation. There is even talk of the 1.1 trillion-euro ($1.2 trillion) program being tapered.
"Basically deflation fears have eased and the market can see signs that the ECB's quantitative easing policy may actually work to restore inflation closer to target over the long term," Greg Gibbs, a strategist at Royal Bank of Scotland Group Plc, told clients in a report Thursday.
The euro has strengthened 0.9 percent against its 10 developed-nation counterparts in the past month, according to Bloomberg Correlation-Weighted Indexes. Meantime, the average yield of European bonds has risen to 0.81 percent, almost doubling their record low of March, according to Bank of America Merrill Lynch Bond Indexes. The Stoxx Europe 600 Index reached its lowest since February on Thursday.
The problem for Draghi is that recent trading goes in the opposite direction of what he needs to cement stronger inflation and economic growth.
Higher borrowing costs will curb the ability of consumers and companies to spend, as well as making it costlier for governments to borrow after falling yields reduced the need for austerity. The euro will impede exporters which had welcomed the currency's previous slide, while lower stocks mean quantitative easing has less of a wealth effect.
'Far From Sustainable'
Together financial conditions on a three-month basis are the tightest in the euro area since the end of 2013, according to Deutsche Bank AG. That's a headwind for an economy where unemployment is still 11.3 percent and inflation of zero in April is well short of the ECB's goal of just below 2 percent.
"The recovery in Europe appears far from sustainable," said Gibbs. "It is not strong enough to withstand a broad tightening in monetary conditions."
It's not all bad news, according to Berenberg Bank senior economist Christian Schulz. Rising yields at least prove Draghi's efforts are successful and should help savers in Germany, who had questioned QE. They should also make more bonds available for the ECB to buy, while a steeper yield curve will help make banks more profitable, and so likely to lend.
'More QE, Not Less'
The upshot, though, is that the recent performance of markets makes it more likely the ECB will stick to the QE course to offset the tighter financial environment. In that case, taper talk would die out, undermining the euro bulls and bond bears, particularly if officials stress how the buying has only just started.
"The tightening of euro financial conditions calls for more QE, not less," said Alan Ruskin, global head of Group of 10 foreign exchange at Deutsche Bank. "We are already at the point when it comes to financial conditions where some protest of this tightening from Draghi can be easily justified."
A historical lesson is available from the QE campaigns of the U.S. Federal Reserve and Bank of Japan. In both cases early bond buying was hailed by investors only for policy makers to then do even more.
"Once positions have been cleansed in European markets to a significant extent, we should settle back into a pattern of weaker euro, relatively stronger equities and bonds," said Gibbs.
Before it's here, it's on the Bloomberg Terminal.
LEARN MORE