Bombardier Mulls Cuts in Jobs, Private Jets as Rail IPO Set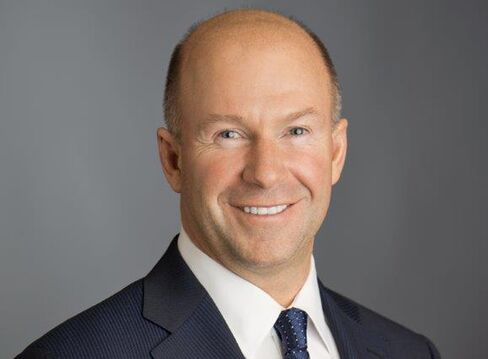 Bombardier Inc. is again considering job cuts among options to reduce costs as business-jet sales slow and the maker of planes and trains begins work on an initial public offering for a minority stake in its rail unit.
The widely traded Class B shares rose the most in two-and-a-half years as Chief Executive Officer Alain Bellemare laid out details of his turnaround plan Thursday. Bombardier also disclosed the first operator of its delayed CSeries jet, Deutsche Lufthansa AG's Swiss, to resolve questions over the model's 2016 debut.
A new round of job reductions would deepen the pullback begun last year, when Bombardier eliminated 3,500 aerospace positions before suspending work on its newest business aircraft, the Learjet 85, in January. While Bellemare didn't give details, his announcement signaled that he plans to heed investor demands for improved earnings with a view to reviving a sagging stock price.
"It's clear that we have to work on our cost structure," Bellemare told reporters after the company's annual meeting in Montreal. "We see that compared with our peers there is a lot of room to improve. We have to take the right actions to improve the profitability of the company. This is an important and urgent priority for me."
While job cuts are one of the "tools" at Bombardier's disposal, they aren't the only option, Bellemare said. Supplier expenses will also be looked at, he said.
"There are multiple ways that you can reduce cost," he said. "We want to make sure that we look at it from all angles, that we tackle every single piece of costs in the organization."
Earnings Beat
Bombardier reported first-quarter earnings excluding one-time items of 9 cents a share, topping the 6-cent average of 16 analyst estimates compiled by Bloomberg, as deliveries of commercial and business aircraft increased.
The results are the first under Bellemare, who took over Feb. 12 with a mandate to restore profitability after CSeries cost overruns dragged Montreal-based Bombardier to its first annual loss in almost a decade in 2014. He has brought in new executives, ordered a strategic review of the train division's future and boosted liquidity.
"Confidence grows that the company's new management has regained solid fundamental momentum," Nicholas Heymann, a William Blair & Co. analyst, said in a note to clients. He rates the stock as outperform.
Bombardier rose 6.7 percent to C$2.54 at the close in Toronto, the biggest jump since November 2012. The stock had plunged 43 percent this year through Wednesday, including a 26 percent dive on Jan. 15 after the company said it would cut jobs and halt work on the Learjet 85, highlighting the struggles in the aerospace division.
Not For Sale
The portion of the Berlin-based rail unit to be sold in the IPO will be "relatively low," Bellemare said on a conference call. He declined to estimate potential proceeds from the IPO.
"Let me be very clear, Bombardier Transportation is not for sale," Bellemare said. "We like this business and it will remain part of Bombardier Inc."
The division's shares will probably be listed in Germany, Bombardier said, and its results will be consolidated in those of the parent company. Holding an IPO also will preserve "flexibility should the corporation wish to participate in future rail equipment industry consolidation," Bombardier said.
'Interesting Opportunities'
Listing the rail unit opens up "some interesting opportunities," said Chris Murray, an analyst at AltaCorp Capital in Toronto.
"Potentially, it also creates additional risk because Bombardier Transportation has always mitigated the volatility of cash flows at aerospace, so you want to be careful about the balance," he said in an interview.
Bombardier has had to raise more than $3 billion in debt and equity this year to ensure it has adequate financing for new-product development as long-term borrowings ballooned to more than $9 billion during development of the CSeries.
The jet's entry into service is running more than two years behind schedule, helping boost program costs by about $2 billion to a projected total of $5.4 billion. The plane is Bombardier's biggest-ever model, a step up from its signature regional jets, and is intended to compete against the smallest single-aisle aircraft from Boeing Co. and Airbus Group NV.
Swiss First
Lufthansa's Swiss will fly the CS100, the smaller of two versions of the CSeries, Bombardier said Thursday, and commercial flights will start in the first half of 2016.
The accord with Swiss resolved the uncertainty about where the CSeries would enter service after Sweden's Braathens Aviation AB backed out as the so-called launch operator last year.
Bombardier also confirmed it will display the CSeries at next month's Paris Air Show, the industry's biggest annual showcase for new models.
First-quarter revenue rose 1 percent to $4.4 billion, Bombardier said. That was short of the $4.6 billion average estimate in a Bloomberg survey.
Almost four months after announcing plans to cut about 1,000 jobs and put work on the Learjet 85 on hold, Bombardier said Thursday that more aviation cutbacks will be necessary amid "softness" in Latin America, China and Russia.
Output of Global 5000 and 6000 business jets will be curtailed, Bellemare said. He said it was too early to estimate the financial consequences of the move or specify how many jobs will be affected.
Development of the larger Global 7000/8000 business jet is continuing and won't be affected by the cutbacks, the CEO said. Bombardier is currently assembling the first prototype, he said.
Before it's here, it's on the Bloomberg Terminal.
LEARN MORE