Apollo's First-Quarter Profit Falls 58% as Asset Sales Slow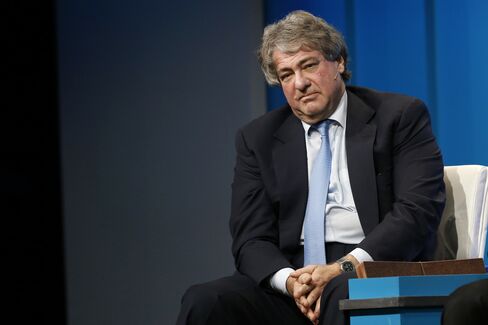 Apollo Global Management LLC said first-quarter profit fell 58 percent as the private equity firm sold fewer fund holdings.
Economic net income, which includes unrealized gains, decreased to $93.5 million, or 23 cents a share, from $223.7 million, or 56 cents, a year earlier, New York-based Apollo said in a statement Thursday. Analysts had expected per-share earnings of 34 cents, according to the average of 15 estimates in a Bloomberg survey.
Apollo, one of the most active sellers of private equity holdings from 2012 to 2014, is having to shift more toward deploying new funds than cashing in on assets. The firm, which is investing an $18.4 billion fund, put to work $4 billion of equity last year while disposing of $10 billion in assets from older funds, Chief Executive Officer Leon Black said last week at the Milken Institute Global Conference. The ratio is now shifting "because we have less to sell," said Black.
"You're at the tail end of a large realization cycle," Josh Harris, an Apollo co-founder, said Thursday on a conference call with analysts and investors. "You're now into the build-value cycle."
Apollo fell 1.7 percent to $22.20 at the close of trading in New York. The stock has declined 5.9 percent this year.
Harvesting Past
"The stock will likely underperform peers over the next 12 months due to a declining cash earnings and dividend trajectory," Michael Cyprys, an analyst at Morgan Stanley, said in a report to clients last month. Apollo is "largely through its harvesting mode."
Some of Apollo's profits are temporarily blocked from being recognized while its 2006 fund is in escrow, which occurs when a fund's value falls below 1.15 times cost. Apollo's vehicle, which has $4.6 billion in remaining value, is marked at 1.04 times cost.
Across private equity funds, the firm's holdings appreciated 2.3 percent in the quarter. That compares with 8 percent at Carlyle Group LP, 6.4 percent at Blackstone Group LP and 5.1 percent in KKR & Co.'s private equity portfolio.
"The miss to us was driven by both lower net carried interest and balance sheet income," Chris Harris, an analyst at Wells Fargo & Co., said Thursday of Apollo's results.
Credit Funds
The firm's fundraising hasn't suffered. Apollo in March secured an additional $2 billion from the Teacher Retirement System of Texas, with which it started a $3 billion separately managed account in 2012. The pension system gave Apollo $1 billion for the existing account and $1 billion for a new fund dedicated to tactical credit opportunities, an arrangement it also replicated with KKR & Co.
Apollo also raised $2.7 billion money for MidCap Financial, a loan origination platform; $425 million for the energy credit fund it started in January; and $555 million for separately managed credit accounts.
The company said it will pay stockholders a dividend of 33 cents a share on May 29.
Before it's here, it's on the Bloomberg Terminal.
LEARN MORE