Alberta New Democrats Set Record for Female Winners in Election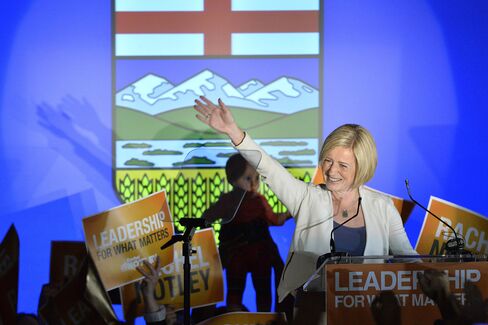 Alberta's historic ousting of a decades-old petro-dynasty came with another breakthrough for Canada: a record proportion of women in the governing caucus.
Of the 53 seats in Alberta's legislature won by the pro-labor New Democratic Party on Tuesday, at least 25 will be taken by women, making it the only ruling party in Canada to ever get so close to gender balance. Other parties elected another four women to the 87-seat provincial parliament. The final tally is still pending a recount in one district.
"To me, that's historic," said NDP Leader Rachel Notley, who will form a majority government as premier this month after her party defeated the Progressive Conservatives, in power since 1971.
The stunning victory by a party that had only four seats in a province known for its oil sands and cowboy culture means Alberta joins Ontario and British Columbia in being led by a woman and boasting the most female lawmakers.
Each of the three provinces -- home to almost two thirds of Canada's population -- has about one-third of parliament seats taken by women, the highest rate in the country, according to data compiled by Equal Voice, an advocacy group supporting women in politics.
"We obviously regard it as a very auspicious moment," said Nancy Peckford, an Equal Voice spokeswoman. The fact that the three provinces with female premiers also have the highest proportions of female legislators is "a powerful comment in and of itself," Peckford added.
In all three provinces, the parties defied expectations to capture their overwhelming majorities -- something that might have opened the door for more women to run, Peckford said. When parties are riding high in polls, nomination contests to pick a candidate tend to be more competitive, she said, leading some women to decline to run.
Open Doors
"The door is a little more open to women sometimes when you're not in hotly contested waters, or nobody thinks you are," Peckford said.
In Alberta, Canada's youngest and wealthiest province, Notley has women in key roles around her, including her chief of staff and throughout her campaign team.
"The end-game is basically that Rachel really passionately wants to see more women in politics," said Cheryl Oates, a spokeswoman for the campaign. "Women sometimes take a little more convincing to run, and so Rachel really wouldn't take no for an answer. She went back, time and time again, to ease some of our candidates' apprehensions."
The NDP's national caucus is 40 percent female, Anne McGrath, the party's national director, said in a phone interview Wednesday from Edmonton, where she was among a group of handlers to accompany Notley to a brief press conference on her first day as premier-elect.
Emphasis on Women
"Throughout the party, we've always placed a lot of emphasis on making sure we have women running for elected positions, and also women represented at every level of the party," McGrath said.
The biggest barrier to getting more women into politics is persuading them to run for a party nomination in the first place, McGrath said. "That's why, in our party, we place so much emphasis on nominating women. That's the hardest place -- getting women to run for the nomination."
Political parties need to actively encourage women to run if they hope to inch closer to balance in their ranks, Peckford said.
"You have to work," she said. "You can't just assume it's going to work out, because men tend to say 'yes' quicker."
Before it's here, it's on the Bloomberg Terminal.
LEARN MORE