We Know Who Will Win the Other U.K. Election Race: Sunderland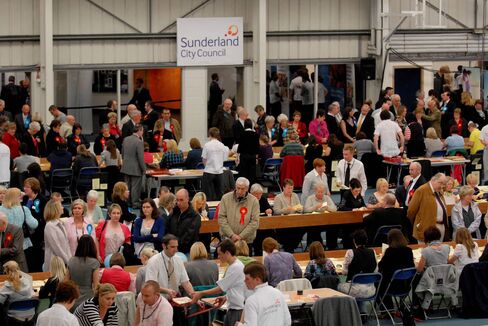 Pollsters, pundits and bookmakers aren't sure what outcome the U.K. general election will deliver. But we do know which city will be the first to declare its results: Sunderland in northeast England.
For the past five elections, Sunderland has raced to finish its count before anywhere else. Dave Smith, the city's chief returning officer, in charge of running the poll, is confident it will do so again on Thursday.
"We plan things right down to the minute, right down to the weight of the ballot papers," Smith said in a telephone interview. "We are trying to use all the logistical knowledge we have to get there first."
Polling stations close at 10 p.m. Within about 90 minutes, the length of a soccer game, Sunderland expects that the votes in its three parliamentary districts will all be transported to the count center and tallied by hand and the results declared.
In 2010, it took 52 minutes to declare the result in Houghton and Sunderland South -- nine minutes slower than the record set in 2001, when the lowest national turnout in more than 80 years meant there were fewer ballot papers to be processed.
In the same way as Amazon Inc. uses the latest technology to direct workers around delivery centers, this time Smith's team will use electronic card readers and other gizmos to plot the shortest routes between different tables in the Silksworth sports center, the venue for the count.
Student Runners
Smith, who has been the chief executive of Sunderland City Council since 2008, will also use old-fashioned methods, enlisting dozens of student runners who will ferry the ballot boxes from vans to desks as they arrive from polling stations.
The districts have reliably voted for the Labour Party, now in opposition, since the 1960s.
"Election campaigns are exhausting for all involved and having the results declared so quickly is a bonus," Bridget Phillipson, who has represented Sunderland South as a Labour lawmaker since 2010, said in an e-mail. "It also means the count in Sunderland is covered both nationally and internationally and helps to raise the profile of our city."
The St. Ives constituency in Cornwall, on the southwesterly tip of England, will probably be the last to declare.
The Liberal Democrat-held district, which includes about 1,700 electors on the Isles of Scilly, 28 miles (45 kilometers) from mainland Britain, won't start counting votes until 10:00 a.m. the following day.
By then, all but seven of the U.K.'s 650 parliamentary seats will have declared their results. But unless either the Conservatives or Labour defy expectations by winning an overall majority, the next government will probably have yet to be formed.
Before it's here, it's on the Bloomberg Terminal.
LEARN MORE