U.K. Votes in Unprecedented Election With Outcome Elusive
Britain is voting in the most uncertain election since World War II, a ballot that looks set to be followed by negotiations to secure a parliamentary majority and clashes over who has the legitimacy to govern.
Polls suggest that neither Conservative Prime Minister David Cameron nor his Labour opponent Ed Miliband will come close to getting enough seats in Parliament to govern alone. Instead, they face days or even weeks of talks to try to win over enough smaller parties to command a majority.
"After the voting, counting and negotiating is over, it is likely that the loser will have been only a few thousand -- possibly a few hundred -- votes short of power," said Rob Hayward, an electoral expert and former Conservative lawmaker.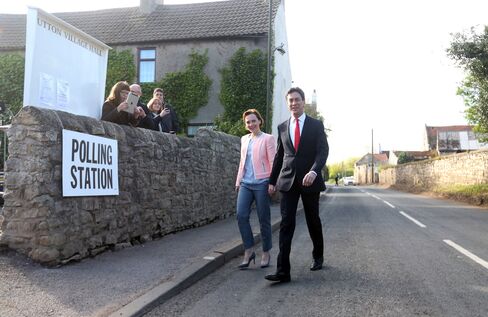 U.K. stocks dropped on Thursday as the uncertainty attached to the electoral outcome in a Group of Seven nation began to play out in markets, adding to volatility which has buffeted the pound and gilts.
One reason is the political risks even once a government is formed: If Cameron manages to stay in office, he'll hold a referendum on leaving the European Union. If Miliband gets in, it will be with the support of the Scottish National Party, which has called for an end to austerity and will be looking for opportunities to further the cause of independence.
Stubborn Polls
While the Labour and Tory campaigns have failed to inspire the electorate -- the polls have stubbornly refused to budge since the beginning of the year -- other parties have engaged voters who have been sidelined for decades. The SNP looks set to win at least six times as many seats as it took in 2010. At the other end of the country, the anti-EU U.K. Independence Party may win seats for the first time at a general election.
An Ashcroft poll released after voting got underway at 7 a.m. underlined the deadlock, with the Conservatives and Labour tied on 33 percent. A separate ICM poll for the Guardian newspaper had Labour ahead by one percentage point, 35 percent to 34 percent, while Iposos Mori gave the Tories 36 percent to Labour's 35 percent.
Bookmakers were unable agree on who has the best chance of becoming prime minister. Betfair and Paddy Power Plc cut their odds on Cameron, making him favorite to return to Downing Street, whereas Ladbrokes Plc give Miliband and Cameron even odds.
Held to Ransom
Cameron has constantly raised the specter of a minority Miliband government propped up by the Scottish nationalists, led by Scotland's First Minister Nicola Sturgeon, who are seeking increased spending and the ultimate breakup of the U.K.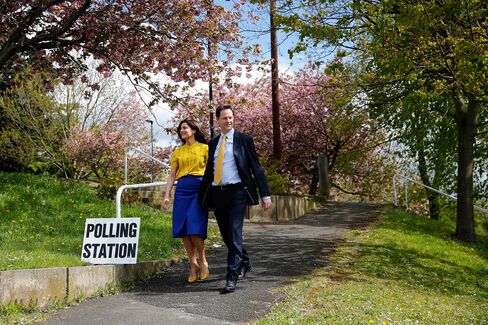 "Britain has the chance of a strong, stable government, but only if you vote Conservative; all other options will end in chaos," he said in an eve-of-polling message to voters. "As you enter the voting booth, remember these simple things: you can stop Ed Miliband being held to ransom by Nicola Sturgeon and the SNP."
The Tories also argue Labour would slow Chancellor of the Exchequer George Osborne's deficit-reduction program -- the "long-term economic plan" that foresees a budget surplus in 2018-19. As well as more spending cuts, the Tory manifesto pledges reductions in income tax and inheritance tax and the chance for many tenants to buy their homes.
Miliband has returned repeatedly to the future of the state-funded National Health Service as a campaign theme, arguing that the Tories are bent on its privatization. He's accused Cameron of pursuing policies that only favor the rich.
Rich and Powerful
"I'm not simply asking you to reject the Conservatives but to reject their plan to put the rich and powerful first," Miliband told a rally in northwest England on Wednesday. "I'm asking you to reject a plan to double the cuts next year and devastate our NHS. I'm asking you to reject a plan for a recovery that only reaches the City of London."
Labour has pledged to reintroduce a tax on bank bonuses, raise the top rate of income tax to 50 percent from 45 percent, freeze energy prices, cap the profits of suppliers to the NHS and impose a mansion tax on the most expensive homes.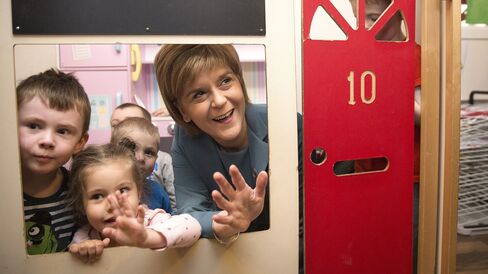 Liberal Democrat Deputy Prime Minister Nick Clegg, pitching for a second term in government with either main party, has pledged to cut less than the Tories and borrow less than Labour.
Clegg has set out six "red lines" that he'll demand as the price of joining a new coalition, including higher education and health spending and pay increases for public-sector workers. Cameron has made it clear that the holding of an EU referendum represents his own red line. Clegg has not ruled out accepting that demand.
Minority Government
Forecasts of seat numbers suggest that the Tories and Liberal Democrats are unlikely to gain a majority together that would allow them to reprise their coalition of the past five years. They might get close to one with the support of the Democratic Unionists, who won eight of Northern Ireland's 18 seats in 2010.
On the other side of the spectrum, the arithmetic suggests Labour and the SNP may have enough seats together for a majority. While Miliband said last week he'd rather not be prime minister than do a deal with SNP leader Sturgeon, he doesn't need to. If the numbers add up, Miliband could form a minority government, safe in the knowledge that the SNP has pledged to support it in any confidence vote and oppose a Tory-led administration. He also has the option to do a deal with the Liberal Democrats.
Exit Poll
Voting runs to 10 p.m. across the U.K., with people marking their cross on a paper ballot. Counting starts immediately the polls close.
The first indication of the results will come in an exit poll for broadcasters that will be released at 10 p.m. Given the complexity of this year's election, though, the headline from the survey of 20,000 voters in 140 of the 650 electoral districts may be "very circumspect," according to John Curtice, the professor of politics at Strathclyde University who's one of the team putting it together.
Early results will start trickling in at about 11 p.m.: Sunderland, a Labour stronghold, has finished counting before anywhere else for the past five elections. At about 1 a.m., according to estimates by the Press Association newswire, the first result in any of the key swing seats is scheduled: Tory-held Nuneaton in central England, a must-win target for Labour if it is to offset its likely losses to the SNP.
http://www.bloomberg.com/graphics/2015-uk-election/constituency.html#551
After 2 a.m., the pace accelerates, though if local races are close, recounts may be needed. By 3 a.m., "we'll probably be able to have a pretty good idea" of how Labour is doing against the Tories nationwide, according to YouGov Plc pollster Anthony Wells.
St. Ives
The final result, from St. Ives in Cornwall, which Cameron is seeking to win from the Liberal Democrats, isn't due until 1 p.m. on Friday.
With support for the main parties forecast to splinter in favor of insurgent forces, it may take a while longer for the election outcome to become clear.
"For all the worry about the fragmentation of politics, we're hearing voices that have been silenced in the two-party system," said Philip Cowley, professor of politics at Nottingham University. "It can't be a bad thing that in Scotland, for instance, there are hundreds of doors being knocked that haven't seen a politician for decades. There will be far more members of Parliament looking over their shoulders after this election."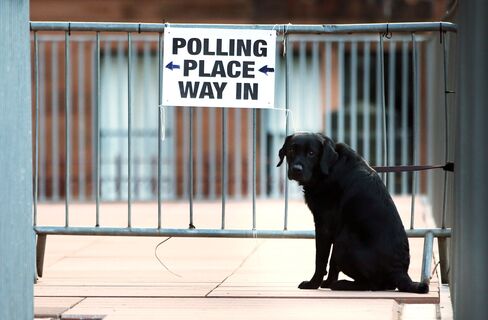 Britain Goes to the Polls: Photos
Before it's here, it's on the Bloomberg Terminal.
LEARN MORE