U.K. Election Promises: The Plans Least Likely to Survive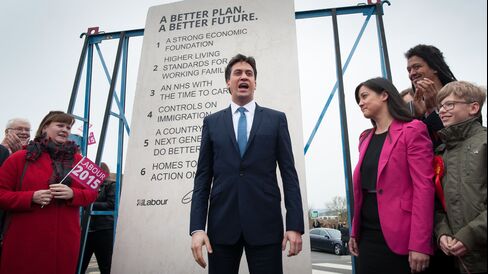 Polling day is here in the U.K. general election, campaigning has been suspended, and the Conservatives and Labour remain neck-and-neck.
In their scramble to break the deadlock, both Conservative Prime Minister David Cameron and Labour leader Ed Miliband added to their pledges to lure voters, often at odds with both parties' promises of fiscal credibility. Luckily for the winner, he won't have to deliver them all.
Polls suggest neither party will gain enough seats to form a majority. This means that, in order to govern, coalitions will have to be formed, or deals made. The most controversial promises will likely be the first casualties, with coalition partners neatly providing someone to blame when pre-election pledges don't come to pass.
Here are some of the most vulnerable:
1. The symbolic gesture:
To make his pledge he won't raise certain taxes extra-believable, Cameron said he'd enshrine it into law.
In practice, the legislation barring increases in income-tax rates, value-added tax or national insurance for the next five years doesn't actually extend to imposing a penalty should the law be broken.
It's also unlikely to be passed should it be put to a vote in Parliament. Those taxes account for two-thirds of government revenue, and few parties will want to tie their hands with legislation that may, should the economy deteriorate, have to be broken.
Miliband took a more creative approach by deciding to carve his pledges into a stone monolith which, according to some reports, is intended for the Downing Street rose garden.
Leaving matters of taste aside, it's only a limestone slab, that doesn't say very much. By making the carved promises as broad as possible -- "a strong economic foundation" is top of the list -- Miliband also made them suitable for most mainstream political parties.
2. The devil's in the detail
Cameron said he'll extend former Prime Minister Margaret Thatcher's famed "Right-to-Buy" policy to tenants of nonprofit housing-associations, rather than just those in council-owned accommodation. The move would potentially give 1.3 million people the chance to buy their home at a discount to market rates. Affordable homes would be built to match the amount of housing stock sold, funded by councils selling off more expensive properties.
Two main problems arise. Firstly, the numbers may not add up. According to the Institute for Fiscal Studies, there are considerable uncertainties about the amount of money that can be raised from sales of expensive properties, versus the costs of Right-to-Buy discounts and replacing sold homes.
Secondly, the government doesn't have a very good track record when it comes to replacing affordable housing. According to the National Housing Federation, since 2012, and despite a government commitment to replace homes sold under the existing Right-to-Buy policy, less than half of properties sold have been replaced.
One of the most popular pledges put forward by Labour is the party's promise to freeze energy prices until 2017. While this, in itself, is feasible, it could come at some cost to investment in infrastructure or green energy by the companies concerned.
As much as 91 percent of a household's energy bill is made up of unavoidable costs such as wholesale prices, use of transmission networks, and compulsory subsidies for renewables and to help homes in fuel poverty, according to analysis by regulator Ofgem. That leaves 9 percent of profit.
Planned government policies to cut carbon and help fuel-poor households will add 99 pounds ($150) to a typical consumer dual-fuel bill by 2020, according to the Department of Energy and Climate Change, which says it expects increase to be outweighed by savings due to other government measures to increase energy efficiency. In practice, energy efficiency measures have seen slower take-up than the government expects.
3. The battle for the NHS
One of Labour's key pledges during the election campaign was to discourage further private-sector involvement in Britain's state-funded health service. To achieve this, Miliband said he would restrict National Health Service suppliers to a 5 percent profit margin.
Business and health-care analysts were quick to criticize the move, saying it may deter many companies from bidding for contracts, as limiting margins may reduce the incentive to invest in the first place. This would, in turn, decrease competition, and as a consequence, could affect the quality of the services provided.
It's also unclear which companies would be affected. While those providing services such as cleaning and catering would see their profits capped, drugmakers, or makers of medical equipment, fall into another category.
After weeks of arguing they were the party of fiscal prudence, the Conservatives responded to Labour's repeated accusations that they would cut the NHS budget with a promise to inject 8 billion pounds into its coffers.
The party has yet to explain where the money will come from. Chancellor of the Exchequer George Osborne was asked 15 times over the course of a single interview on the BBC's "Andrew Marr Show" to do so, without succeeding in clarifying the issue.
4. "We are fighting for a majority"
Neither Labour, nor the Conservatives, have admitted that winning a majority is near-impossible. Every poll published this year has forecast a hung parliament, with most predicting Labour and the Conservatives will win between 270 and 280 seats -- very far from the 326 seats needed for a majority.
Before it's here, it's on the Bloomberg Terminal.
LEARN MORE