U.K. Companies Back Cameron Despite 'Harm' of EU Vote, Poll Says
More than half of British business leaders say David Cameron's planned referendum on European Union membership is hurting their industries, even though many believe he's the best choice for prime minister, a KPMG poll has found.
In a survey of 600 U.K. companies ahead of Thursday's government election, respondents highlighted the dilemma in boardrooms over what would be the best outcome.
While 57 percent said the prospect of a possible EU referendum was "harming their industry," almost three-quarters said talk of state intervention in some industries was undermining business confidence.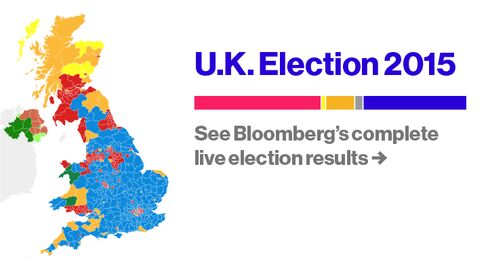 Cameron's Conservative Party is neck-and-neck in the polls with Ed Miliband's Labour Party, which has promised interventionist measures such as fixing prices on household energy and controlling private rents on domestic properties.
"Our survey finds that businesses expect, and would prefer, a Conservative-led government," said Simon Collins, U.K. chairman of KPMG. "But managers are worried about uncertainty and the potential for intervention and even demonization from politicians."
HSBC Holdings Plc, Britain's biggest bank, has already said it is considering quitting the country because of higher taxes and more regulation imposed under the current Conservative government, with Labour promising more onerous levies on the finance sector.
Some 43 percent of respondents expected a Conservative-led government to emerge after Thursday's vote, compared with 26 percent for a Labour-led administration. Those surveyed said a win for Cameron would be better for business confidence, sales growth and corporate tax.
There were also fears about delays in forming a new government, with 64 percent saying that would harm their business. Some senior politicians have raised the prospect of a possible second election this year should Cameron or Miliband find it impossible to establish a working majority to pass legislation.
Before it's here, it's on the Bloomberg Terminal.
LEARN MORE