Swisscom Intends to Keep Italian Fastweb Business, CEO Says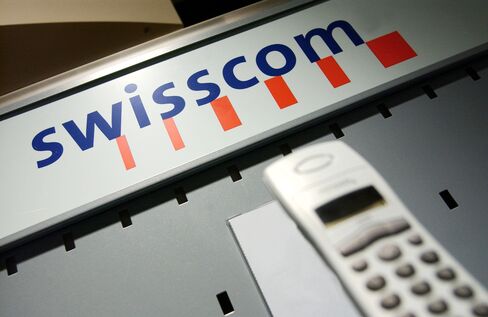 Swisscom AG plans to keep its most important foreign venture, Italian broadband unit Fastweb SpA, Chief Executive Officer Urs Schaeppi said.
While Swisscom is considering selling businesses it doesn't consider strategic, such as real estate and some media assets, Switzerland largest phone company isn't in talks to divest Fastweb, Schaeppi said in a phone interview on Wednesday.
"We can increase the value of Fastweb and that's what we are doing," Schaeppi said. "We aren't having any negotiations or talks about it. We are investing in Italy and we don't want to sell."
Schaeppi had said in December he'd consider selling Fastweb if he gets a "fantastic" offer for the unit, which Swisscom bought in 2007 to make up for slowing domestic growth.
Swisscom reported first-quarter earnings and sales that topped analysts' estimates on Wednesday as its fixed-network business continued to grow. The stock declined 1.3 percent to 549 francs at 4:30 p.m. in Zurich.
Swisscom AG isn't planning any changes to its indirect 10.6 percent holding in Italy's Metroweb SpA either, Schaeppi said. Vodafone Group Plc and Telecom Italia SpA are among companies that have been interested in buying a stake in the fiber-optic operator from investor F2i Sgr SpA, which owns 54 percent of the company, according to people familiar with the matter.
"We are happy with the stake in Metroweb and don't want to change it," Schaeppi said. "In Milan, we're the most important customer for Metroweb, so we have an interest to see this company developing."
Price War
Swisscom expects to sell the majority of PubliGroupe's non-strategic businesses by the end of the year after its 2014 acquisition of the advertising company, Schaeppi said.
Competition for phone customers is increasing in Switzerland after Xavier Niel, a billionaire known for sparking a mobile price war in France, agreed to buy third-place carrier Orange Switzerland for 2.8 billion francs in December. The operator has been re-branded Salt in a 40 million-franc effort that's set to end by September.
"Competition in Switzerland is a bit more dynamic than in 2014 and quality oriented," Schaeppi said. "The market is saturating."
Before it's here, it's on the Bloomberg Terminal.
LEARN MORE