Spain's Jobless Scars Slow to Heal as Rajoy Pins Hope on Economy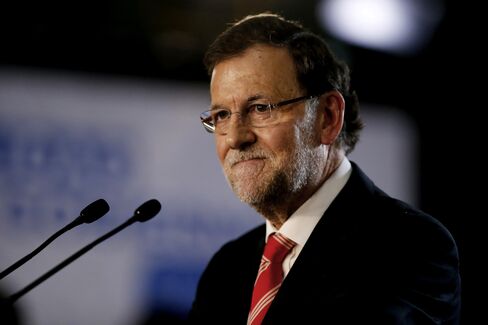 For Guillermo Romero, Spain's economic revival is ringing rather hollow.
The Madrid native has spent seven years looking in vain for a permanent contract in his field as a sound engineer. Now, even in an economy that's among the fastest-growing in the euro area, the best he can find is work as an occasional DJ.
"I began looking for work at 20, I'm 27 and nothing has changed," he said outside the unemployment office in the working-class district of Prosperidad in Madrid. "It's pointless looking for work here. Most jobs pay no money or have nothing to do with your field."
Guillermo's story mirrors that of 1.5 million unemployed young Spaniards, putting pressure on Prime Minister Mariano Rajoy to keep his pledge to deliver more than 600,000 new jobs this year. While the economy is recovering and has grown for seven straight quarters, low starting salaries and part-time contracts mean jobseekers who find work may still not thank the government when elections come round later this year.
Having arrived in office in 2011 with a vow to reduce unemployment, that pledge still haunts Rajoy. The 60-year-old took over as prime minister when the rate was 23 percent. It jumped to a record 27 percent during his tenure, and he's only managed to lower it to 24 percent since then.
Voter Backlash
The administration is touting the recovery as evidence of its success. It forecasts economic growth of 2.9 percent this year and sees that pace being maintained in 2016 and 2017 -- beating the euro-area average.
But for disenchanted Spaniards like Guillermo, the macro improvement means very little if he can't get a decent job.
Angry at the traditional two-party system that's dominated politics more for than three decades, he says he'll vote for Podemos, the anti-austerity party led by ponytailed professor Pablo Iglesias. Guillermo argues that Rajoy's People's Party and the Socialists have "done nothing to help young people."
"There is still a perception divide between the macro picture and the lives of everyday Spaniards," said Antonio Barroso, a London-based analyst at Teneo Intelligence, which advises investors on political risk. "That's important because Rajoy wants to present himself as the man who took Spain out of the crisis."
Economic Optimism
The PP is counting on continued growth to lower the jobless rate to 21 percent by the end of this year and less than 18 percent in 2017. That's would still be more than double the record-low unemployment of 7.9 percent in 2007.
Despite the revival of the battered labor market, the scale of the crisis and the temporary nature of many positions leave Rajoy struggling to convince voters that he's overcome the impact of austerity and the collapse of the housing market, which helped destroy more than three million jobs.
The number of permanent contracts has risen over the past year and social security sign-ups -- a proxy for payrolls -- have topped the 17 million barrier for the first time since 2012. But more than 50 percent of all unemployed have been out of work for more than 12 months, creating a risk that they will be shut out of the labor market permanently.
"How can we talk about a labor-market success?" said Marcel Jansen, economics professor at the Autonomous University of Madrid, citing the continued high unemployment rate. "Reforms have not tackled structural unemployment."
Market Divided
The fragmentation of the labor market by age and contract - - where older workers enjoy permanent jobs with benefits -- also means younger people are left in a precarious spot. Almost one quarter of workers were on temporary contracts last year, compared with a euro-region average of 15 percent. They earn about a third less than other workers, according to the National Statistics Institute.
The high labor of unemployment has also created an underground economy of workers being paid under the table.
Responding to a study by Infojobs ESADE showing one out of five unemployed admitted to receiving undeclared salaries, Deputy Labor Minister Engracia Hidalgo said Thursday that combating fraud is a "key objective" for the government.
In an election where the recovery is center stage, the question for Rajoy is how fast that feeds through to the labor market and, crucially, the quality of the jobs created.
The government has credited its controversial labor-market reforms, which reduced firing costs and reined in the power of unions, with strengthening the market, on the basis that more flexibility incentivizes hiring.
Street Protests
In the years before the crisis, Spain normally needed to grow faster than 2 percent to create jobs. In 2014, payrolls started increasing at a considerable pace even with expansion below that threshold.
But the labor-market overhaul, which sparked street protests in 2012, is still a controversial subject and often used as political ammunition, with opposition parties accusing the government of fueling poorly-paid temporary contracts.
The socialists, campaigning on a platform of a "fair recovery," have pledged to overturn the reforms to end what they describe as a generation of "working poor." Labor unions accuse the administration of deepening the class divide and Podemos says the exodus of young workers is Spain's "shame."
For the prime minister, who's lost half of his support since the last election, the recovery may be patchy, but it's better than anything else he's had to confront during a roller coaster term.
"Any good economic news is certainly good news for Rajoy," said Barroso.
Before it's here, it's on the Bloomberg Terminal.
LEARN MORE