South Korean Exports Are Key Concern for BOK's Research Head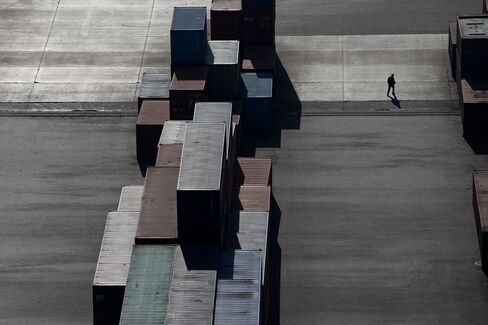 South Korean exports, which dropped in the first four months of this year, are a key concern of the Bank of Korea's top research official.
"I'm monitoring the impact of the weak yen as Japanese companies start to lower product prices," Chang Min, the director general of the BOK's research department, said in an interview in his Seoul office on Monday. "We already considered the weaker yen when making April's forecasts, but a bigger-than-expected weakness could affect exports."
The comments come after the nation's top currency official warned last week that Korea is stepping up scrutiny of the yen's tumble and the damage it's doing to exporters' earnings. The won last month hit the strongest level against the yen since 2008, putting pressure on Korean shipments, which dropped the most in more than two years in April.
Although exchange rates are less crucial to exports than in the past as companies relocate factories overseas and produce more high-quality goods that dominate markets, they still have an impact, Chang said.
The won weakened 0.2 percent against the dollar from May 4 to 1,081.36 at 10:42 a.m. in Seoul, while falling 0.4 percent against the yen, according to prices compiled by Bloomberg. Markets were shut Tuesday for a local holiday. The yield on three-year government debt rose three basis points to 1.93 percent, Korea Exchange prices show.
Rejoining BOK
Chang, 50, is a graduate of Seoul National University and has a Ph.D. from Michigan State University. He rejoined the BOK in March this year to helm research after the central bank was criticized for failing to achieve its economic forecasts.
His appointment is expected to "contribute a lot to enhancing the bank's economic forecasting and research capabilities," the bank said when he was appointed. He was a member of the research department in 2003 when it was headed by current Governor Lee Ju Yeol, and left the central bank to work for the Korea Institute of Finance in 2008.
The BOK lowered its economic growth forecast for this year to 3.1 percent from 3.4 percent in April, a month after cutting the benchmark rate to an unprecedented 1.75 percent. The inflation forecast was reduced to 0.9 percent from 1.9 percent.
Chang said the downward revisions were the result of more "forward looking" assumptions for factors like lower oil prices and weak revenue crimping government spending. Recent economic data has held up to central bank's expectations, according to Chang.
Lower Forecasts
"I don't see any data that is trailing our forecast significantly," Chang said. "We had expected trade volume to fall slightly in April, and industrial output improved on a quarterly basis, albeit a small improvement."
Consumer prices rose 0.4 percent in April from a year earlier, matching March gains which were the smallest since 1999. The volume of trade fell 0.8 percent last month from 2014, and the index of all industry production rose 0.2 percent in the first quarter from the previous period when it increased 0.1 percent.
The BOK's rate cuts have boosted equities and property and this, combined with an increase in purchasing power due to cheaper oil, should start supporting consumption from the second half of 2015, according to Chang.
The central bank will release a new inflation target later this year to be applied from 2016. The bank currently targets a range of 2.5 percent to 3.5 percent for headline inflation.
"We are open to all options in setting the new inflation target," Chang said. "Widening or narrowing the range, setting just one figure instead of a range, changing the benchmark gauge to core from headline inflation are all possible options."
The central bank's board members next meet on May 15, after holding the key interest rate at 1.75 percent in April.
Before it's here, it's on the Bloomberg Terminal.
LEARN MORE