Acquiring Salesforce.com Inc. wouldn't just cost a fortune — it also would dent the profits of any buyer.
A takeover of the $49 billion software provider would damage earnings for companies from Microsoft Corp. to Oracle Corp. and International Business Machines Corp. that are among possible suitors. Earnings at these technology giants could take a hit of as much as 18 percent, according to data compiled by Bloomberg. That would mean needing to slash about $3 billion of costs just to offset the decline and break even on the deal.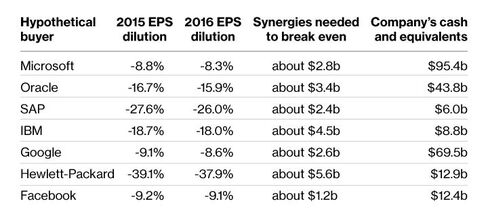 "It would be shocking for anybody that's a disciplined acquirer to spend that kind of money on Salesforce," John Difucci, a New York-based analyst at Jefferies Group, said in a phone interview. "Even for a company that's been relatively undisciplined, it would surprising given the size and the risk."
Google Inc. and SAP SE also would destroy shareholder value with such a purchase, the data show. The pre-synergies calculation assumes an acquisition price of $85 a share for Salesforce, funded 25 percent with cash and the rest with the buyer's stock. Salesforce shares traded at $73.71 at 1:33 p.m. in New York on Wednesday.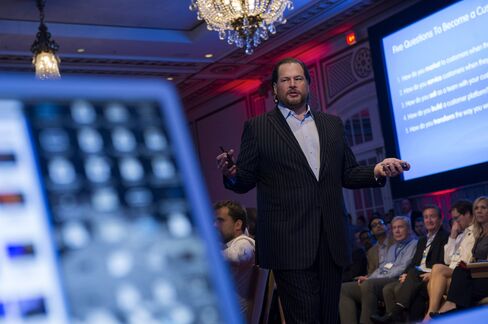 A deal this dilutive is rare in the current merger boom. Most large acquisitions announced recently, such as NXP Semiconductors NV's deal for Freescale Semiconductor Ltd. and drugmaker Actavis Plc's takeover of Allergan Inc., are projected to boost earnings quickly by cutting redundant costs to expand margins. As a result, many acquirers' stocks have popped on merger news.
SAP Chief Executive Officer Bill McDermott said this week that he has "zero interest" in Salesforce. McDermott and Salesforce CEO Marc Benioff held discussions last year about possible strategic alliances between the two companies, people with knowledge of the matter said. The talks included a potential acquisition of Salesforce by SAP, said one of the people, who asked not to be identified because the negotiations were private.
Microsoft isn't in talks with Salesforce, but it is evaluating a possible bid, people with knowledge of the matter said.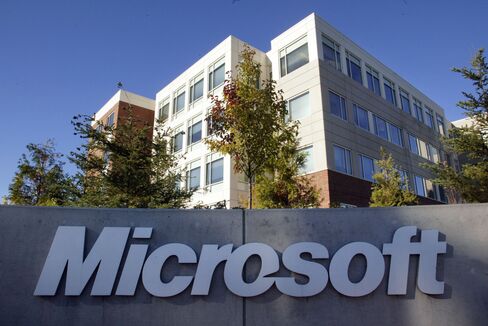 A takeover of Salesforce would be the most expensive acquisition larger than $20 billion announced in the past 12 months. It'd also be one of the priciest big technology deals in history.
Salesforce is valued at about 87 times earnings before interest, taxes, depreciation and amortization. The average software maker trades for 21 times Ebitda, data compiled by Bloomberg show. Microsoft is the cheapest of its size with a multiple of just 9.9.
Despite losing money for four straight years, Salesforce has generated strong revenue gains, averaging 33 percent over the last three years, fueled by a series of acquisitions. This year, though, analysts project sales growth will slow to 21 percent. So a Salesforce acquirer would inherit a money-losing company that would hurt its earnings even as its growth rate decelerates.
—With assistance from Alex Tribou.
Before it's here, it's on the Bloomberg Terminal.
LEARN MORE