Putin Bottles Patriotism as Black Sea Wine Trumps Burgundy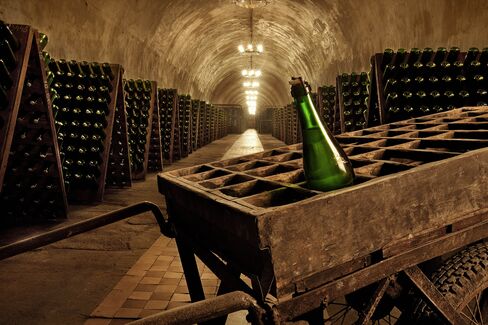 Spurned over Ukraine and squeezed by recession, Russians are starting to measure patriotism by the glass.
This social shift has winemakers with ties to the Kremlin popping their corks, especially now that President Vladimir Putin is gearing up the country for the 70th anniversary of its most celebrated military victory, over Nazi Germany, on May 9.
Abrau-Durso PJSC, founded in 1870 to supply sparkling wine to Czar Alexander II, is leading a revival of the industry as swelling national pride and a weaker ruble make foreign products less palatable. Long the official bubbly at premier events like the Sochi Olympics, its cabernets and chardonnays are now winning awards and gracing some of Moscow's finest dining halls, from the Four Seasons and Ritz Carlton to those run by Arkady Novikov, Russia's most decorated restaurateur.
"Russian officials recently stopped ordering the most expensive Burgundy and Bordeaux," Sergey Aksenovskiy, brand sommelier at the Maison Dellos group of restaurants, which includes the iconic Cafe Pushkin, said in a phone interview. "They've been told not to show off amid the economic crisis."
Wine imports into Russia, the fifth-biggest buyer globally last year, plunged by a third in the first quarter to 49.4 million liters, according to the Moscow-based National Alcohol Policy Center. Premium Black Sea marks like Abrau-Durso's Usadba Divnomorskoye have benefited from the ruble's 40 percent decline since Russia annexed Crimea from Ukraine last March, while Italian and French labels have suffered the most.
Putin Palace
Alcohol and power have intersected for centuries in Russia and it's been no different under the largely teetotaling current president. Putin's business ombudsman, Boris Titov, owns Abrau-Durso and his son Pavel, a former banker at Merrill Lynch and Royal Bank of Scotland Group Plc, runs the company. The government controls some of the vineyards that supply it.
Abrau-Durso's surge in popularity at a time when the country is under U.S. and EU sanctions has been aided by the "rumors" that some of its grapes are grown at one of Putin's residences, the younger Titov said in an interview. He was referring to a plantation the company owns near an estate media including the Kommersant newspaper call "Putin's Palace."
In an open letter to then-President Dmitry Medvedev decrying corruption in 2010, St. Petersburg businessman Sergei Kolesnikov said he'd been compelled to help secretly finance and build a $1 billion compound for Putin on the Black Sea that included a vineyard and extensive wine cellar.
'First Impulse'
A few months after Kolesnikov went public with his claim, Abrau-Durso, then run by Boris Titov, acquired the growing area in question. A year later, Putin promoted Titov to his current post. Putin's spokesman, Dmitry Peskov, has repeatedly denied any connection between the president and the palace.
Abrau-Durso's traditional wines are now on the menu in more than 85 restaurants in Moscow alone at prices as high as 10,000 rubles ($200) a bottle, on par with Italian Super Tuscans, Pavel Titov said.
Abrau-Durso's shares advanced 4.4 percent in Moscow as of 1:30 p.m. local time, compared with a 1.6 percent decline in the Micex Index. That values the Novorossiysk-based company at about $120 million.
"The first impulse for people to buy Russian wine is patriotic," said Titov, who doubled sales of the Usadba Divnomorskoye line to more than 100,000 bottles last year. "But patriotism alone isn't enough to make them order a second bottle if they didn't like it."
Rothschild's Vintner
The biggest winners of this trend are the local producers who invested in high-quality wines years ago, since it takes three to five years for grapes to mature, according to Leonid Popovich, who heads the Union of Winegrowers and Winemakers.
One of these is Mikhail Nikolaev, who sold his Russian insurer to Zurich Insurance Group for $440 million in 2007 and has put about $100 million of that into developing his Lefkadia winery in the Krasnodar region.
Nikolaev lured French vintner Patrick Leon, who worked for Baron Philippe de Rothschild's family at Chateau Mouton Rothschild, to Russia to oversee the project. Leon helped create California's Opus One winery in the 1980s, producing the first U.S. ultra-premium brand, a category that denotes bottles that sell for $50 or more each, according to the company.
"It was a special operation to bring Patrick from Paris to the middle of nowhere to mark Russia wine," Nikolaev said in an interview. "He doesn't need the money. He's just interested in making wine."
Political Pressure
Prime Minister Medvedev has visited Lefkadia and is a loyal customer, as are five-star Moscow hotels such as Lotte Plaza, Baltschug Kempinski and the National's new Dr. Zhivago restaurant near Red Square, Nikolaev said.
Cafe Pushkin, a favorite of the rich and famous since it opened in 1999, offers wines from around the world yet so far carries just a single Russian label, from Vedernikov in Rostov-on-Don, about 1,000 kilometers south of Moscow. Pushkin offers a 2012 Krasnostop Zolotovski, which is made from grapes indigenous to the region, for 5,950 rubles, a quarter of what it charges for a French 2012 Corton-Charlemagne Burgundy.
Given the current political environment, it may not be long before the government forces restaurants to stack their menus with domestic marks, said Aksenovskiy, the sommelier.
"Now that there's a push to replace imports, almost every Russian winery has a state lobbyist behind it," Aksenovskiy said. "We're under constant pressure to add Russian wines."
Before it's here, it's on the Bloomberg Terminal.
LEARN MORE