Pimco's Mexico Bond Bet Imperiled by World's Worst Currency Drop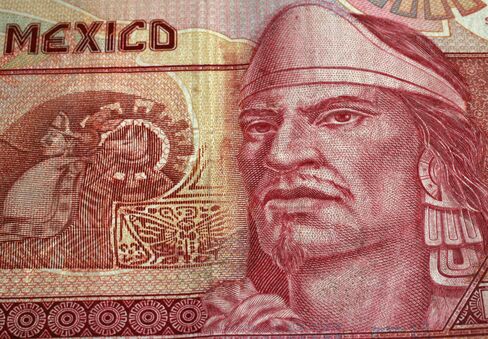 Pacific Investment Management Co., which has extolled Mexican bonds for 14 years, says yet again that now is the time to buy the nation's debt. It might prove to be a tough sell.
That's because Mexico's peso-denominated bonds have suffered the biggest losses in emerging markets in the past month, apart from Turkey. The notes tumbled 5.1 percent in that span, while developing-country debt slipped 0.1 percent.
Scott Mather, Pimco's chief investment officer for U.S. core strategies, wrote in a blog post this week that Mexico's newfound status as the main supplier of cars and parts to a growing U.S. market is what makes the bonds so compelling.
It's a striking shift for the bond manager that as recently as last year emphasized the nation's oil industry reforms as the key to growth. Economists have cut their expansion forecasts, and the peso in the past month is the world's worst performer among major currencies.
"Mexico became a favored investment destination in the fixed-income arena as economic reforms and estimates of higher growth rates generated buzz," Michael Roche, a debt strategist at Seaport Global Holdings, said by telephone from New York. "The current situation doesn't bode well for these portfolios remaining overweighted in Mexico's domestic market."
Mexico's peso bonds lost 2.2 percent last year, even as local-currency developing-nation debt rallied.
Peso's Slide
One reason is that growth has missed analyst estimates in eight of the last 11 quarters. Since September, economists have cut their 2015 projections by almost a full percentage point to 2.9 percent, a central bank survey showed.
The peso has slid 3.4 percent against the dollar in the month through Tuesday, the most among 16 major currencies tracked by Bloomberg. That's upended returns for bond investors who didn't hedge against currency fluctuations.
The peso slump occurred even as oil advanced 23 percent.
Bond investors need to see a stronger economic expansion to buy into the Mexico story, according to Luis Maizel, who helps manage $5.5 billion of fixed-income securities as co-founder of LM Capital Group in San Diego.
"The world is waiting to see when there's a pickup in growth and there doesn't seem to be one," he said.
The peso slipped 0.1 percent Wednesday to 15.3486 per dollar at 2:51 p.m. in New York.
Toyota Plant
In his May 4 blog post, Mather wrote that many investors think of Latin American countries as heavy commodity exporters. In fact, he wrote, Mexico gets less than 10 percent of exports from petroleum. The auto industry represents almost 30 percent.
The nation surpassed Brazil as Latin America's largest auto producer in 2014. Since the start of 2010, automakers have announced about $24 billion of investments in Mexico, according to the Center for Automotive Research in Ann Arbor, Michigan. This year alone, Toyota Motor Corp., Ford Motor Co. and Volkswagen AG have disclosed plans for new production.
"Cheap labor, a shared border and free trade with the U.S. are key strategic advantages," Mather wrote. "Roughly 80 percent of Mexico's exports go to its northern neighbor -– a clear positive as U.S. growth is expected to outpace that of its developed-market peers."
Pimco's press office declined to provide further comment.
There's a strong likelihood that Mexico's debt will underperform before any rally, according to Grupo Financiero Banorte SAB.
"Losses could prevail despite an attractive valuation," analysts Gabriel Casillas, Alejandro Padilla and Juan Carlos Alderete said in a report May 4.
Before it's here, it's on the Bloomberg Terminal.
LEARN MORE