Obama May Veto Defense Bill Over Budget Caps, Carter Says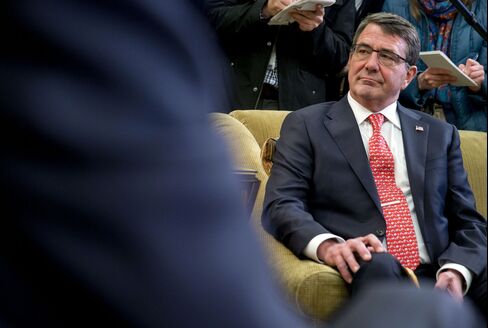 Defense Secretary Ashton Carter warned that President Barack Obama may veto a defense bill that funnels money into a war account to sidestep budget caps.
The House Armed Services Committee approved a defense authorization bill last week that provides a one-year spending boost by transferring funds to the Overseas Contingency Operations account, which is intended for warfighting overseas and is exempt from budget caps. It's expected to be taken up on the House floor next week.
"While this approach clearly recognizes that the budget total we've requested is needed, the avenue it takes is just as clearly a road to nowhere," Carter told the Senate Appropriations defense subcommittee Wednesday. "Legislation that implements this framework will therefore be subject to veto."
At the White House, press secretary Josh Earnest told reporters that "a long list of concerns" about the defense bill for fiscal 2016 includes "the continued reliance on this slush fund to fund basic national security priorities."
Both Pentagon officials and lawmakers have bemoaned misuse of the Overseas Contingency Operations account while stretching the definition of extraordinary war needs to fund their favored projects through it.
The Navy has been using the war-fighting fund to repair and overhaul submarine propellers since 2010. Last year, lawmakers rejected a Pentagon request to use as much as $1.5 billion in war spending to buy F-35 jets from Lockheed Martin Corp. and AH-64 Apache helicopters from Boeing Co.
The ploy of using war funds to bolster regular defense spending is being counted on by both the House and Senate this year. The tactic was incorporated in a budget resolution adopted by both chambers to guide the crafting of annual appropriations legislation.
While Republicans want to ease caps on defense spending, Obama and many Democrats say limits on domestic spending also must be lifted.
Before it's here, it's on the Bloomberg Terminal.
LEARN MORE