N.Y. Senate Democrats Fail in Attempt to Oust Republican Skelos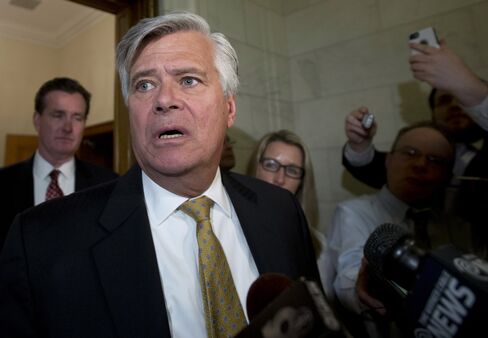 New York Senate Republicans blocked attempts by Democrats to force a vote to oust Republican Senate Majority Leader Dean Skelos, who was arrested on charges that he used his power over real-estate laws to enrich his son.
Senator Jack Martins, a Long Island Republican presiding over the chamber, refused to allow the resolution to be introduced Wednesday. Republicans, who control the Senate, said this week that Skelos should remain as their leader, a job he's held since 2008.
Martins' move led to shouting matches over parliamentary procedure. Queens Senator Michael Gianaris, the second-highest ranking Democrat, had his microphone cut off as he pressed the issue. Republicans moved on with a resolution to recognize a high-school basketball team.
"Leave it to the Senate Democrats to inject politics into this discussion," Kelly Cummings, a Skelos spokeswoman, said in an e-mailed statement. "Senate Republicans are going to continue to do the people's business."
Even though the maneuver failed, at least four Republicans have already said they don't want Skelos, 67, to continue in his leadership role because it causes a distraction.
Republicans will leave Albany, the capital, on Wednesday and return home, where they're already facing calls from newspaper editorial boards for Skelos to resign.
The governor and lawmakers, who return May 11, must negotiate an extension of New York City regulations that suppress rents and provide tax abatements to developers who build affordable housing ahead of their June 15 expiration.
Skelos is accused of abusing his power over those measures to force a developer and an environmental firm to get his son jobs. Skelos has said he's innocent.
Before it's here, it's on the Bloomberg Terminal.
LEARN MORE