Jim Wright, House Speaker Forced Out Over Ethics, Dies at 92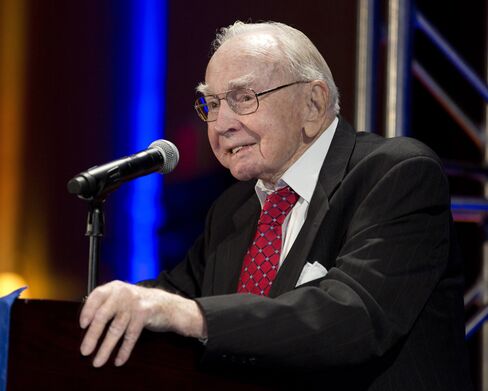 Jim Wright, the Texas Democrat who spent three decades rising to speaker of the U.S. House of Representatives only to lose his seat in a bitter debate over his ethics, has died. He was 92.
He died Wednesday at a nursing facility in Fort Worth, Texas, according to Javier Majera of Thompson's Harveson & Cole Funeral Home. No cause was given.
Wright, who served from 1955 to 1989, was the first Speaker of the U.S. House of Representatives to resign under a cloud of misconduct. His ouster was a milestone in the ascendancy of political warfare and the demise of camaraderie in Congress.
The House ethics committee investigated Wright following a complaint by Newt Gingrich of Georgia, then a little-known but outspoken Republican congressman. While clearing Wright of several allegations, the committee cited him for five violations involving gifts and income from bulk sales of his 1984 book, "Reflections of a Public Man."
The panel ruled that Fort Worth businessman George A. Mallick, a friend and business partner of Wright and his wife, Betty, had an interest in legislation before Congress. Therefore, the panel ruled, Mallick shouldn't have provided housing to them, and the company co-owned by the two couples shouldn't have provided Betty an $18,000-a-year salary and use of a car.
Also, the committee said Wright had sold his book in bulk on several occasions as a way to evade limits on honoraria and other outside income.
'Mindless Cannibalism'
In his emotional hour-long resignation speech on the House floor on May 31, 1989, Wright called the charges petty and painted himself as the victim of a political assault.
"All of us, in both political parties, must resolve to bring this period of mindless cannibalism to an end," Wright said in his speech. "There has been enough of it."
He insisted that his desire to bring peace to Nicaragua and other nations in Central America -- a role that had brought complaints from President Ronald Reagan's administration -- had made him the target of "vicious attacks."
"I probably paid too little attention to my personal affairs while driving, perhaps too persistently, to prod Congress into a more dynamic role in both domestic and foreign policy," he wrote in "Worth It All," his 1993 memoir. "For whatever errors of judgment may be laid to me, I assume full responsibility."
New Target
The partisan anger that overflowed during the Wright affair would bedevil future House speakers -- including Gingrich himself. After becoming speaker in 1995, he became a top target of Democratic attacks and resigned under pressure after his party lost five House seats in the 1998 elections.
The Wright battle was "one of the most bitter partisan disputes of the 20th century," University of Maryland political scientist Eric Uslaner wrote in his 1993 book, "The Decline of Comity in Congress." He said Gingrich and his lieutenants established defeating the opposition as their top goal in Congress.
"Wright's offense was, by historical standards in Congress, rather miniscule," but enough for a "Republican minority looking to find ways to get you," Uslaner said in an interview.
After leaving Congress, Wright taught a class on "Congress and the Presidents" at Texas Christian University and wrote a column for the Fort Worth Star-Telegram.
He told McClatchy Newspapers in 2009 that partisan warfare in the House "seems to have gotten worse" since his departure, and he continued to say his downfall was undeserved. "I'm convinced I didn't violate any laws -- or any House rules, either," he said.
Texas Roots
James Claude Wright Jr. was born on Dec. 22, 1922, in Fort Worth and grew up in Weatherford, a small town 20 miles to the west. His father, James Sr., led a National Guard unit that had been sent to the Rio Grande in 1916 to stop raids by Pancho Villa's forces. His mother, Marie, the daughter of a railroad surveyor, was born in the New Mexico territory.
An amateur boxer, Wright attended high school in Dallas and then returned with his family to Weatherford, where he coached boxers including the future television actor Larry Hagman. At Weatherford College, Wright edited the student newspaper.
Wright was studying at the University of Texas when Japan attacked Pearl Harbor on Dec. 7, 1941. He enlisted in the U.S. Army Air Corps and served as a bombardier in the South Pacific, earning a Distinguished Flying Cross.
Underdog Victory
Wright recounted his wartime experiences in "The Flying Circus: Pacific War 1943 As Seen Through a Bombsight" (2005).
After two years in the Texas legislature and four as Weatherford mayor, Wright in 1954 started an underdog campaign for Congress, upending four-term Representative Wingate Lucas in the Democratic primary.
Wright spent 34 years in the House. A conservative Democrat by national standards -- he favored a larger military budget and opposed the 1964 Civil Rights Act, a vote he later regretted -- Wright nonetheless was considered the most liberal member of Texas's delegation.
He was known mostly as a defender of his district's local interests, Texas's oil and gas producers, and pork-barrel spending in general.
By a single vote, Wright's Democratic colleagues elected him House majority leader in 1976 -- "a startling event, and one that owed much to the liabilities of his opponents," according to the Almanac of American Politics.
Foreign Policy
Wright served in the post for 10 years, working closely with Speaker Thomas "Tip" O'Neill and ultimately succeeding him in 1987. As speaker, Wright asserted himself as a force in U.S. Central American policy in the aftermath of the Iran-Contra affair, the Reagan administration's secret effort to aid guerrillas fighting Nicaragua's left-wing government.
Wright personally pursued a peace accord and later wrote that Reagan's "obsessive desire for a military solution in Nicaragua had not borne fruit, except in the deaths of some 30,000 Nicaraguans."
Wright said he made himself a target of Reagan loyalists when he attended a November 1987 meeting between Nicaraguan President Daniel Ortega and a Roman Catholic cardinal who agreed to carry a peace proposal to the Contras.
"From that moment, there was nothing but hostility from the administration," Wright told reporters a day after announcing his resignation in 1989. "There was a determination on the part of certain people in the other party to see to it that I was removed."
He added, "If I've made any contribution to peace in the world, then that's the thing of which I'd be proudest."
Wright married his college sweetheart, Mary Ethelyn Lemons, in 1942, and they had five children, four of whom survive. The marriage ended in 1970, and Mary died in 1986. Wright married Betty Hay, a longtime member of his congressional staff, in 1972.
(A previous version of this story corrected the day of death.)
Before it's here, it's on the Bloomberg Terminal.
LEARN MORE