In These 21 Countries, a 40-Hour Work Week Still Keeps Families in Poverty
It's hard to get by on a minimum-wage paycheck in most countries the OECD examined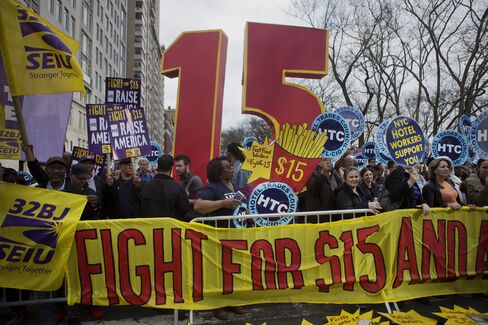 How often have you felt that no matter how hard and long you work you just couldn't make ends meet?
Tuns out life is just that hard for minimum-wage workers pretty much across the globe. A global ranking out Wednesday by the Paris-based Organization for Economic Cooperation and Development painted a grim picture of the situation in member countries straddling continents. The 34-member organization found that a legal minimum wage existed in 26 countries and crunched the numbers to see how they compared.
Forget taking a siesta in Spain. There, you'd have to work more than 72 hours a week to escape the trappings of poverty. Turns out that is the norm, not the exception. In the 21 countries highlighted with blue bars in the chart below, a full 40-hour work week still won't lift families out of relative poverty. This list includes France, home to the 35-hour work week, which almost met the threshold. Minimum wage workers there who are supporting a spouse and two children need to work 40.2 hours to get their families out of poverty. (The poverty line is defined as 50 percent of the median wage in any nation.)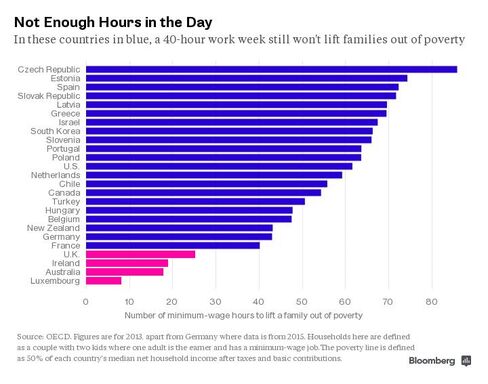 To gauge the generosity of each country's floor on hourly pay, you can also look at another measure: The minimum wage as a percentage of the local median wage. Those ratios vary widely across the world. In the U.S., the minimum wage was less than 40 percent of the median wage in 2013, which meant the country had one of the lowest percentages among the economies the OECD examined.
Those ratios are much higher across the Atlantic, but Europe's sovereign debt crisis has taken its toll. In Ireland, Greece and Spain -- three of the hardest-hit countries in the euro area -- minimum wage levels as a ratio to the median wage were higher in 2007 than in 2013.
Before it's here, it's on the Bloomberg Terminal.
LEARN MORE